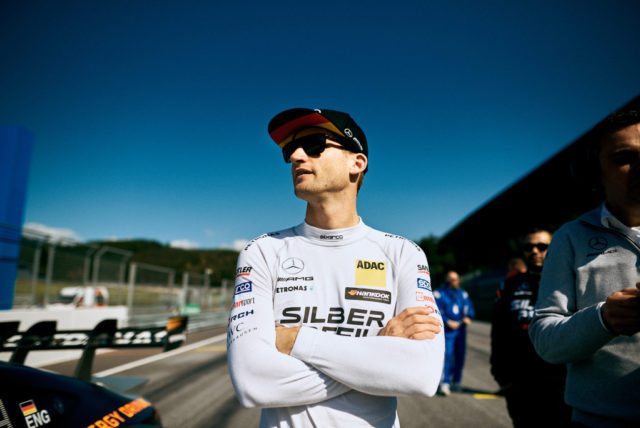 Maro Engel is leaving the DTM to concentrate fully on Formula E and his race commitments in the Mercedes-AMG GT3, the Mercedes team announced.
The DTM, Formula E and several race outings in the Mercedes-AMG GT3 kept Engel very busy during the 2017 season, but the all-round talent will focus on Formula E and GT racing during 2018.
Maro Engel to concentrate on Formula E and GT racing
"I still had a small score to settle after my first stint in the DTM, which I was able to put right last year by taking my maiden win in Moscow. I'm very grateful to the team for making that possible. Thank you very much to the entire team for a fantastic time", Maro Engel said.
"It's a pity that the Formula E and the DTM racing calendars overlap to some extent this season. Unfortunately, there's no easy solution, because I would love to be lining up again in the DTM, especially as it's Mercedes-AMG's final year in the series. With an eye to the future, though, we decided that I would concentrate fully on Formula E and GT racing in 2018. However, I intend to be at some of the team's races and hope they can bring the title back to Stuttgart and Affalterbach in their swan-song year."
Engel will focus on his second season in Formula E and on further race outings in the Mercedes-AMG GT3 this year
"I owe a great deal to the customer sports programme and to Mercedes-AMG", added Maro. "That's why I was so keen to go on competing in major GT events. I really enjoy it and am looking forward to taking part again this year."
Maro's season has already begun in both series. He was in Santiago de Chile last weekend to contest the fourth Formula E race of the season where he partnered his old Mercedes-AMG Motorsport DTM team-mate from 2017, Edoardo Mortara, at Team Venturi. Maro had already taken part in his first race of the season in the Mercedes‑A MG GT3 the week prior to that in the 24-Hours of Daytona.
"Maro was an important member of our team last season in the DTM and proved what a great racing driver he is with his win in Moscow," said Head of Mercedes-AMG Motorsport DTM Ulrich Fritz. "Many thanks again for that one! This season, he is fully focused on Formula E and our customer sports programme. He's an absolute all-rounder, fast in any racing car, so I know he'll be successful again this year whether it's in a single-seater Formula E racing car or in a GT car. Maro remains part of the Mercedes-AMG Motorsport family and everyone in the DTM team will be wishing him the best of luck in all his races in 2018."
Maro contested 60 DTM races for the brand with the star during 2008 – 2011 and in 2017, scoring 67 points
He achieved his best result last year in the second race in Moscow where he took his maiden win in the DTM. Maro will next race in Formula E in the Mexico ePrix on 3rd March at the Hermanos Rodriguez Autodromo.
Thank you for the kind words ??? Wishing you another cracking season of racing! I will always be a fan of this great championship! https://t.co/OiAHvrM8Zz

— Maro Engel (@MaroEngel) February 5, 2018
Meanwhile, Mercedes announced that Pascal Wehrlein will return to DTM after two years in Formula 1
"I've got some terrific memories of the DTM, not least because of my title win in 2015, but also because of the strong team spirit and the many amazing experiences I've had with the guys", said Pascal. "I've followed the DTM closely during my time in Formula 1 and have even been to a couple of races to see the team and support them. A lot has changed in the DTM since my last race in the DTM season finale at Hockenheim back in 2015, but I like a challenge and can hardly wait to try out our new car on track for the first time. The first tests can't come soon enough for me."
During the past two seasons, Pascal has raced for both Manor Racing and the Sauber F1 Team in Formula 1. He scored the only points achieved by both outfits in his respective seasons with them. His best result was eighth place in the 2017 Spanish Grand Prix. During this time, he also acted as official test and reserve driver to the world championship-winning team of Mercedes.
DTM Comeback 2018! @MercedesAMGDTM #PW94 https://t.co/VH2aGSHwV5

— Pascal Wehrlein (@PWehrlein) February 7, 2018