Hyundai Motorsport has a four-car entry into Wales Rally GB, the penultimate event in the 2017 FIA World Rally Championship (WRC), and the final round in Europe.
Following a series of disappointing events, the team is fully focused on securing a strong team result on the Welsh gravel roads with its most comprehensive line-up of the season.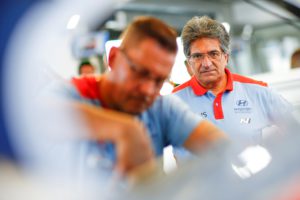 "We are focused on securing a good all-round team result in this penultimate round of the season", Team Principal Michel Nandan said.
"Entering four cars gives us a chance to perform at our highest level, but at the same time, we recognise the challenges that this rally poses. We can never be sure of the weather conditions. And if it rains the stages can become incredibly slippery and tricky to tackle. We have been gradually improving our results in Wales each season. We finished on the podium there twelve months ago with Thierry Neuville, which gives us a positive feeling for this year. With Hayden Paddon, Andreas Mikkelsen and Dani Sordo also showing good form in Wales in the past, I hope we can enjoy a more trouble-free weekend and pick up a better result for our team compared to recent rallies."
Paddon returns to WRC action on his favoured gravel surface and is looking to end his 2017 season with Hyundai in competitive form
He has taken top-five finishes in Wales in the past two seasons and will be aiming to fight for his second podium of 2017 after finishing second in Poland back in July.
"Wales Rally GB is an iconic rally with plenty of driving challenges. The event has always been run late in the season, so we can expect some rain and potentially foggy conditions. In many ways, it is like being back home in New Zealand. There are some very nice, fast stages, and it is a rally I enjoy. Hopefully, we can put together a good result and build up to a positive conclusion to what has been a tough season", Paddon explained.
Neuville is still mathematically in the Drivers' Championship hunt
So, along with compatriot Belgian co-driver Nicolas Gilsoul, he will be putting in a big effort in Wales. He took the team's maiden Welsh podium in 2016. Thus all eyes will be on another top-three result in this year's round.
"We were dealt something of a harsh blow in Spain, but we are ready to fight back in Wales", Neuville commented.
"It is a unique event on the calendar, a rally where weather conditions can really dictate performance and confidence levels. If it's raining, windy and muddy, the stages become incredibly slippery. It is, without doubt, a tough event, but one that I relish. I have finished on the podium a couple of times, and get a buzz from the fantastic atmosphere. Driving at high-speed through the forest stages, sometimes in the dark, is just incredible. I intend to keep pushing right to the end of the Championship."
In their first WRC event with Hyundai Motorsport, Mikkelsen and co-driver Anders Jæger quickly made a positive impression
Leading the rally at the end of the opening day, it was a steep learning curve for the Norwegian duo. Their adaptation to the Hyundai i20 Coupe WRC will continue on the all-gravel stages in Wales.
"It is great to have a rally under my belt with the team and with the i20 Coupe WRC. It was a really valuable learning experience in Spain. Wales Rally GB has always been a special event for me, personally, as it was where I had my first-ever WRC event as a 17-year-old. I know the rally very well so I have an appreciation for its difficulties. It is a fair assumption to expect rain at some point, which creates a very slippery surface, but overall it is highly rewarding and enjoyable. I'm looking forward to it, and hopefully to challenge near the front", Mikkelsen said.
@AMikkelsenRally on the @WalesRallyGB SD @HMSGOfficial #wrc pic.twitter.com/N8uvs7D5ix

— WRC freak (@FakeHinkelstein) October 26, 2017
For Sordo and co-driver Marc Martí, a promising home rally in Spain turned to frustration
As the only crew to have taken maximum Power Stage points in consecutive rallies this season, they will be targeting a less turbulent event in Wales Rally GB.
"Wales Rally GB is an event that most crews anticipate and enjoy. The combination of gravel stages, inclement weather conditions, and high speeds makes for a thrilling rally. Of course, when it is muddy, it gets slippery. So you need to have the confidence inside the cockpit to tackle the stages aggressively. The forest setting and narrow sections make it difficult but highly enjoyable. I am determined to end the year with a positive result. We missed out in Spain, where I know we could have finished on the podium. That's something I want to rectify in Wales", Sordo explained.
Stunning! @WalesRallyGB #ReccePostcard #WRC #HyundaiWRC pic.twitter.com/3oSBzlZoTb

— Hyundai Motorsport (@HMSGOfficial) October 25, 2017