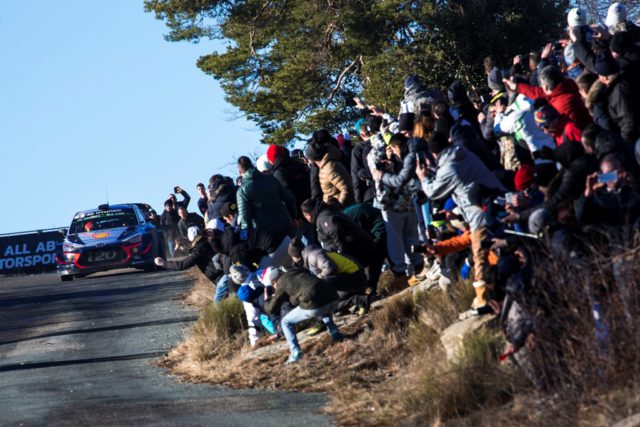 A competitive final day moved Thierry Neuville into the top five of Rallye Monte Carlo. The Belgian was fifth at the finish but the chance for a podium had disappeared a couple of days earlier.
"On balance, I think we have had a good rally, despite the various issues we have encountered along the way", Neuville said.
"Thursday was the biggest factor when we lost over four minutes getting stuck through my own fault. We have fought back from those early problems, and a few others, and tried to regain as many positions as we could. The places we have made up today – right to the end of the Power Stage – show how important it is to push right to the finish. Without the puncture and tricky snow conditions [on Saturday], a podium would still have been possible. That's Monte Carlo, though. I would like to say thanks to the team for doing an incredible job in hard circumstances this weekend, and together we look ahead to Sweden."
Let's throwback #RallyeMonteCarlo with all the pictures of the first #WRC event of the season! #TBT #HMSGOfficial #TN pic.twitter.com/HoFpYyin7r

— Thierry Neuville (@thierryneuville) February 1, 2018
Andreas Mikkelsen also admitted that his rally was practically over on the second day (Friday). Then he stopped in SS3 with an alternator problem.
"The focus shifted to salvaging as many points as possible from the Power Stage, which was our aim", the Norwegian continued.
"With no tyre zone or service, we adopted a compromised strategy taking five soft tyres for both loops. We knew that the run-up to Col de Turini would be tough, so we took it carefully and accepted we would be slow. SS15 was a good practice for the Power Stage and it was nice for the team to take a 1-2. I was happy with my run, considering we were first on the road and it was still drying in places. It's my best drive feeling-wise so far with the car on dry tarmac, which is encouraging."
So, finally, after a great start to #RallyeMonteCarlo and challenging end, we take with us 3 points from the power stage. Happy with that! Thanks to all at @HMSGOfficial – all eyes now on #RallySweden! pic.twitter.com/yW4DuDIkNP

— Andreas Mikkelsen (@AMikkelsenRally) January 28, 2018