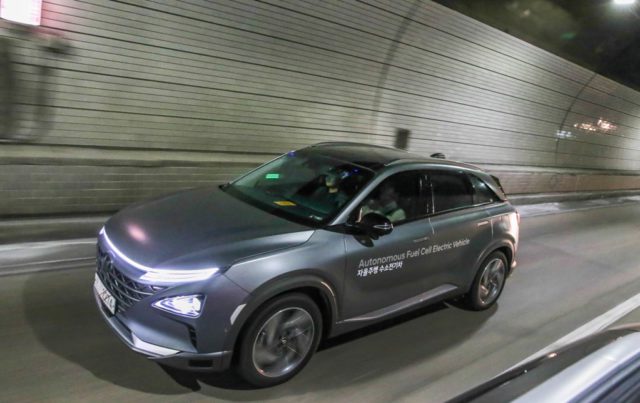 A fleet of Hyundai Motor Company's next-generation fuel cell electric cars have succeeded in completing a self-driven 190 kilometres journey from Seoul to Pyeongchang. This is the first time in the world that level 4 autonomous driving has been achieved with fuel cell electric cars, the ultimate eco-friendly vehicles.
Until now, autonomous driving has been demonstrated at a limited speed on some sections of domestic roads, but this is the first time autonomous cars have driven such a long distance at 100 km/h-110 km/h, the maximum speed allowed by law on Korean highways.
Five Hyundai vehicles completed the journey. The base for three of the vehicles is Hyundai's next-generation fuel cell electric SUV NEXO. Its launch in Korea is next month. And the other two are Genesis G80 autonomous vehicles. All vehicles are equipped with level 4 self-driving technology, as defined by the SAE international standards, and 5G network technology. The vehicles used for the demonstration are "futuristic vehicles" that closely represent Hyundai's three visions for future mobility: connected mobility; freedom in mobility; and clean mobility.
The demonstration started in Seoul on Feb. 2 with the 'CRUISE' and 'SET' buttons being pressed on the autonomous-driving steering wheel of each vehicle
At this point, the cars immediately switched to the self-driving mode and began the 190 km journey to Pyeongchang. Entering the highway, the vehicles moved in response to the natural flow of traffic. They executed lane changes and overtaking manoeuvres, and navigated toll gates using Hi-pass, South-Korea's wireless expressway payment system.
Early last year Hyundai had a successful demonstration of autonomously driving vehicles in Las Vegas' CES. Building on that, the latest cars featured a number of new technologies. They enable recognizing surrounding vehicles more accurately. They also make better judgments at junctions and at branching roads. the new technologies allow navigating through toll gates by accurately calculating the toll gate's width and position. And also precisely pinpoint the vehicle's position on a map by using external sensors fitted for situations when there is no GPS signal.
Hyundai conducted a significant number of highway test drives amounting to hundreds of thousands of kilometres travelled, which enabled them to accumulate a vast amount of data that helped enhance the performance of its self-driving vehicles.
"Hyundai's philosophy for developing autonomous driving technology is to provide the highest level of safety combined with a high standard of convenience that our customers expect," said Jinwoo Lee, head of the Intelligent Safety Technology Center at Hyundai Motor Group.
The exterior and interior of self-driving vehicles used for this demonstration look similar to Hyundai's other mass-produced models
But they have various cameras and LIDARs. Adding a small number of sensors to mass-produced vehicles has enabled the realization of fully autonomous driving technology. Thus it brings the company a step closer to the commercialization of self-driving technology.
Autonomous driving processes a high volume of data, which requires a lot of power. The fuel cell electric model is able to produce electricity through a reaction between hydrogen and oxygen in the fuel cell stack, making it the optimal vehicle model choice for this test.
The NEXO fuel cell electric SUV can drive more than 600 km on a single charge, which takes approximately five minutes. The model boasts world-class system efficiency of 60%, durability equivalent to internal combustion engine-driven vehicles and a load space of 839 litres.
Connectivity Enhanced Infotainment System
Utilizing the 5G network the vehicles deliver five new advanced information technologies. Access to them comes through a user interface (UI) that provides an intuitive user experience.
Passengers in the rear seats can use "Home Connect". That is a car-to-home technology which enables the user to access and control IoT devices in their smart home. They can view home camera images in real-time, control the lighting, remote door lock or TV. And even manage home energy systems. Hyundai plans to phase in the home-to-car and car-to-home technology to its vehicles from the first half of 2018 and from 2019, respectively.
"Assistant Chat" is a technology that allows users to ask questions to a Chat Bot with simple voice commands. After that, they receive answers in the form of text or images.
"Wellness Care" can monitor health information of passengers seated in the rear of the vehicle, such as their stress level, heart rate, and mood state. They can also access relaxing therapeutic services, as well as connect with a health consultant through a real-time video call.
In addition, the vehicle also provides "Noise-Away" cabin noise reduction technology
It also has "Mood Care" which provides rear door mood lighting when the music player or Wellness Care is active.
The Korean karaoke application "Everysing" also allows passengers to sing along to music on their journey. And it's possible to stream video to the rear-seat entertainment system. Lastly, users can receive real-time traffic information notifications, supported by multiple languages, including Korean, English and Chinese.
These advanced infotainment features enable drivers to make the best use of their time spent in autonomously driven vehicles. They make the cars more than a simple means of moving from one location to another.
Hyundai Motor Group, which includes flagship units Hyundai Motor and Kia Motors, is preparing for the commercialization of the SAE standard Level 4. It is a compliant autonomous-driving system in smart cities by 2021. To this end, the company announced plans at CES 2018 last month to jointly develop self-driving technology with Aurora Innovation.
Hyundai also plans to commercialize the technology for fully autonomous driving by 2030
Furthermore, since August last year, Hyundai has been researching and building its V2X infrastructure. As a founding member of the American Center for Mobility, Hyundai Motor Group last October invested 5 million dollars in the ACM-led construction of state-of-the-art testing facilities.
A group of three #Hyundai HFCEV, self-driving NEXO's were spotted on a 118-mile trek from Seoul to Pyeongchang, South Korea, site of the 2018 Winter #Olympics.

Hyundai is the first auto-giant to produce a self-driving, #hydrogen #fuelcell #EV! The test was a major success! pic.twitter.com/bfAqqc8KCU

— H2 & Fuel Cell News (@H2NewsGlobal) February 6, 2018