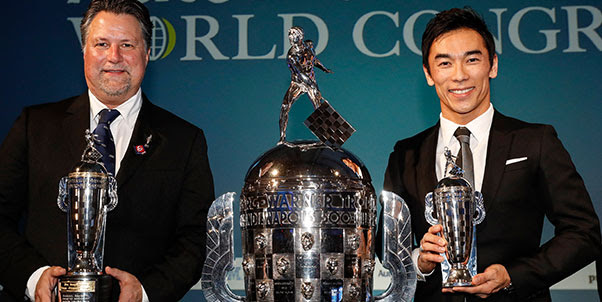 Takuma Sato and team owner Michael Andretti received their BorgWarner Championship trophies to honour their thrilling victory in the 101st Indianapolis 500 last May. The trophies are also known as the "Baby Borg".
"I haven't decided if it's going to Indy or Japan", a smiling Sato said of the ultimate destination for his trophy. "Anywhere will do."
"(Being honoured for winning the Indianapolis 500) just never stops, and we're only four months away from the next Indy 500. It's crazy."
Takuma Sato (@TakumaSatoRacer) on continuing the #Indy500 celebration with the Baby @BorgWarner trophy and what's ahead for 2018 #IndyCar season [WATCH] pic.twitter.com/SkUIy7KaLZ

— Dave Furst (@DaveFurst) January 18, 2018
The BorgWarner Championship trophies are unique replicas of the iconic Borg-Warner Trophy. The winner of the Indianapolis 500 receives the trophy on Memorial Day weekend at Indianapolis Motor Speedway. The Baby Borg trophies are 14 inches high and weigh 5 pounds.
Sato, 40, from Tokyo, became the first Japanese driver to win the Indianapolis 500. He started fourth in the No. 26 Andretti Autosport Honda and held off three-time Indy 500 winner Helio Castroneves by just 0.2011 of a second at the finish of a captivating race May 28.
Takuma Sato spent 7 years in Formula 1 (where he drove for Jordan, BAR and Super Aguri) while he is an Indycar driver since 2010. His only previous Indy car victory was in 2013 with AJ Foyt Racing on the streets of Long Beach, California. Sato joined Andretti Autosport this season. In 2012 he crashed while battling Dario Franchitti for the lead on the final lap of the Indy 500.
"After 2012 I felt really needed to correct something I left over. I was so happy that I made it and won in a good move", Sato said.
He was the 71st driver to win Indy 500 while the previous best position of a Japanese driver was 5th place. Tora Takagi took it in 2003.
Takuma Sato and team owner Michael Andretti each received their "Baby Borg"s
Former Indy car driver Andretti earned his fifth Indianapolis 500 victory as a team owner. Each of these victories was with a different driver. Andretti also was the winning owner in 2005 with Dan Wheldon, 2007 with Dario Franchitti, 2014 with Ryan Hunter-Reay and 2016 with Alexander Rossi.
Andretti is equal with Chip Ganassi in the second place on the all-time Indianapolis 500 victory list among team owners. Four of Ganassi's wins came as the owner of Chip Ganassi Racing. The fifth was as co-owner of Pat Patrick Racing in 1989. Roger Penske leads all owners with 16 victories in "The Greatest Spectacle in Racing" as the Indy 500 is known.
The 102nd Indianapolis 500 is on May 27 while the 2018 IndyCar Series season starts March 11 in St. Petersburg, Florida.
All good days end with a @BorgWarner in hand. Hope to see you again in 2019 for number six, #ANWorldCongress! #Indy500 #IndyCar pic.twitter.com/DLXbQy6twI

— Andretti Autosport (@FollowAndretti) January 18, 2018