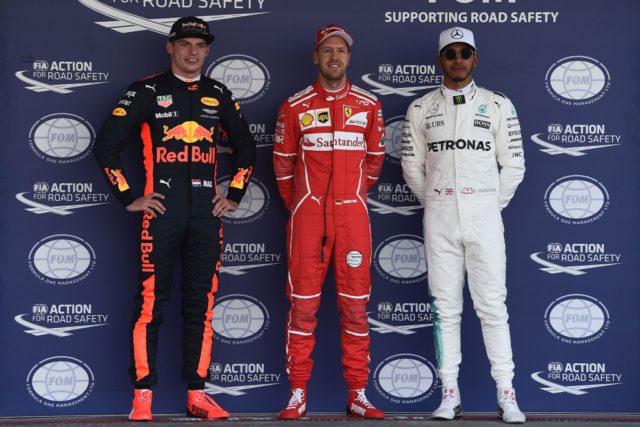 Sebastian Vettel won the pole position for the Formula 1 Mexican Grand prix. The Ferrari driver managed to make a better lap than Max Verstappen at the very end of Q3. The Red Bull driver was second but he is under investigation for possible impeding of Valtteri Bottas. Lewis Hamilton was third.
"It was quite a lap, I'm really, really happy", Vettel commented after his 50th pole position.
"It's very difficult here, very slippery. It's difficult to get everything in one lap. I had a little bit [of an advantage] in the first sector, I managed to get that right, so I had a good start."
"Then I had a bit of a moment at Turn 6, and I nearly lost it there, I had to go down to first gear, but I didn't lose any time. Then I knew in the last sector if I could just keep it clean and cross the line it should be enough, and it was."
Verstappen was annoyed that he did not get the pole.
"Actually in Q3 it just got a bit more difficult. I couldn't really get the tyres to work… Of course, second is good, but not in the way it went", he added.
"I gave it all, but today in qualifying it was just not enough. I really wanted that pole position, but at least we have a decent start position."
Verstappen said that what happened with Bottas was not an incident at all.
"I was on the inside, he was just doing his line, and he locked up, so there is no incident."
Lewis Hamilton on his side believes that his chances are at the start and during the pitstop windows in the race.
Sebastian Vettel won the pole position for the Formula 1 Mexican Grand prix
INITIAL CLASSIFICATION (END OF QUALIFYING): A stunning lap sees Sebastian Vettel claim pole #MexicoGP ?? #F1 #Quali pic.twitter.com/BMtCHGAV3t

— Formula 1 (@F1) October 28, 2017