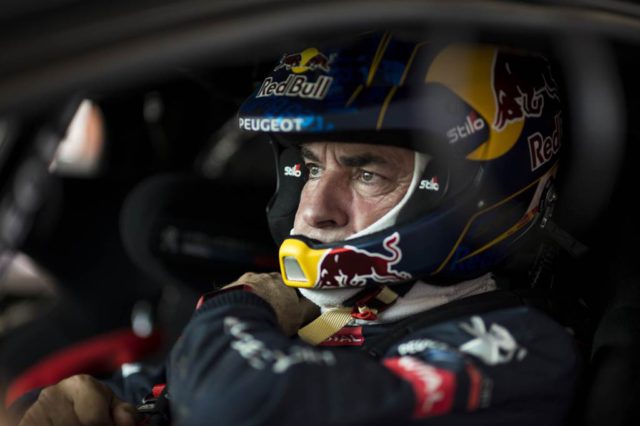 Today's Stage 7 took the 2018 Dakar Rally from La Paz to Uyuni in 425 fast-paced kilometres. After enjoying a rest day in the Bolivian capital on Friday, the field took off for a 'marathon stage' where no outside assistance is allowed. With their crews in Tupiza, the competitors have to survive the day – and tomorrow – on their own.
Not only that, but the mud caused by the rain turned the day into a mechanical mess, seeing Peterhansel lose the overall lead after breaking his car's suspension.
Tomorrow (Sunday) will see the drivers reach Tupiza in southern Bolivia.
Car
Having won on Thursday, Carlos Sainz started first today – and finished first. But it wasn't plain sailing in between with the Team Peugeot Total driver quickly overtaken by his teammate and 13-time Dakar champion Stéphane Peterhansel.
That was until Peterhansel destroyed his shock absorber and rear suspension, losing 1h45 in the process. The third Peugeot driver Cyril Despres, who lost all hopes of overall victory on Tuesday with a broken wheel, stopped to help Peterhansel repair his 3008 DKR.
Today's winner and the new overall leader, Sainz eventually finished ahead of the Toyota drivers Giniel de Villiers (+12'05") and Nasser Al-Attiyah (+14'19").
Sainz said: "It was quite difficult in the beginning, with a lot of hors-piste and drifting. Afterwards, we had good roads. It's a matter of surviving; there is still a long way to go. Of course, now it's a bit different, but we need to focus and get out of problems."
Primera declaración de @CSainz_oficial ?? en la llegada de la etapa 7.
Nuevo líder de #coches ?#Dakar2018#Dakar40th pic.twitter.com/cOgQkFninT

— DAKAR RALLY (@dakar) January 13, 2018
Stéphane Peterhansel finishes with a delay of 1h47'56" after his early struggles #Dakar2018
// @s_peterhansel acaba la etapa 7 con un retraso de 1h47'56" después de su accidente #DakarBolivia
More / más info > https://t.co/R0ezQ07YE0 pic.twitter.com/f4OS2OqVT7

— DAKAR RALLY (@dakar) January 13, 2018
Bike
Thursday's winner and Red Bull KTM Factory Racing rider Antoine Méo opened the road today, only to be quickly overtaken by a masterful Joan Barreda. The Spaniard took the win, followed by Adrien Van Beveren – the new overall leader – in second and Kevin Benavides in third. 2016 Dakar winner Toby Price took four.
In 19th place today and 19th overall, Laia Sanz arrived in Uyuni her bike covered of dirt. The KTM athlete said: "It was a very physical stage, with lots of sand at the start and tons of mud later on. It's a shame that I got stuck in the mud, in the end, I lost a bit of time, but I'm satisfied. I'm just happy to be here with no problems."