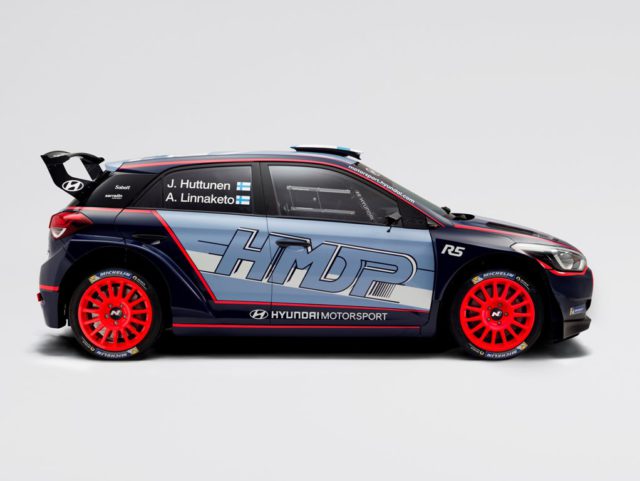 The Hyundai Motorsport Driver development Program (HMDP) will get its 2018 season off to an exciting start as part of the FIA World Rally Championship (WRC) launch event this week.
The event will mark the public debut of the newly liveried New Generation i20 R5 as well as the HMDP crew of Jari Huttunen and Antti Linnaketo
The Finns will compete in some events of the competitive WRC2 class this season. Their program starts with Rally Sweden and Rally México.
Sarrazin Motorsport will run the New Generation i20 R5 on behalf of Hyundai Motorsport. The car will feature with a striking livery in each round it contests in 2018. The new-look features a prominent HMDP logo on the front, side and rear of the car. It also incorporates the company's established colour palette.
The car has already demonstrated its rally winning credentials at the hands of customer teams in 2017. But the WRC2 class in 2018 will offer the sternest test yet for both car and crew.
Rally Sweden will be the first challenge for 23-year-old Huttunen. Having been identified as one of 16 potential HMDP candidates following his WRC2 victory in Rally Finland last year, Huttunen was eventually selected from a shortlist after an impressive test in the New Generation i20 R5 in September.
He then took part in Wales Rally GB as part of a private entry with Sarrazin Motorsport in October. That offered the young Finn his first taste of the New Generation i20 R5 in a competitive environment.
Huttunen said:
"Everyone at Hyundai Motorsport has put a lot of faith in me so I will make it my aim to deliver against the team's expectations in each of the rallies in which we will compete. It will be a learning curve and I intend to make the most of the opportunity. Sweden and Mexico are two diverse events, so we will have to be on top of our game from the start. The competition in WRC2 this year is going to be tough, but we have a great car and a lot of optimism, which we will try to translate into positive results in these first two events."
Hyundai Motorsport Team Manager Alain Penasse added:
"We are all looking forward to seeing Jari and Antti compete in WRC2, further enhancing our presence in the WRC community. They have acquitted themselves exceptionally well, integrating with the wider Hyundai Motorsport family. HMDP perfectly showcases our commitment to identify and nurture new rallying talent, and with Jari, we feel we have a real star in the making. We are also confident in the capability of our New Generation i20 R5, which will look fantastic on the stages with its brand new livery. All in all, it promises to be a big battle in Sweden and Mexico, with lots of top manufacturers and drivers in the WRC2 class."
Season´ s Greetings and Happy New Year!
Hyvää joulua ja vauhdikasta uutta vuotta! pic.twitter.com/wcmoJqkxlu

— Jari Huttunen Racing (@HuttunenRacing) December 24, 2017