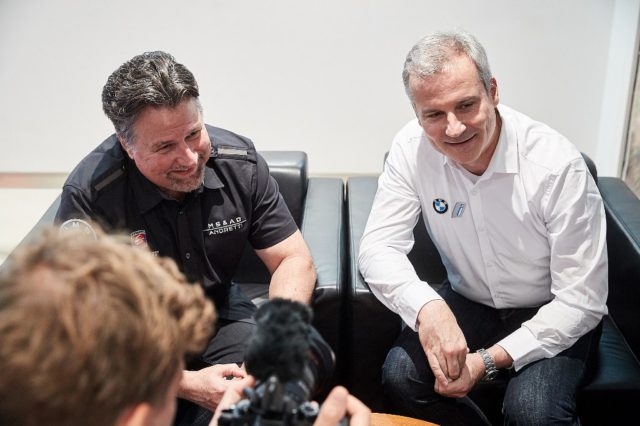 The course has been set for BMW to join the FIA Formula E Championship as an official manufacturer with a works team in Season 5. In an interview, BMW Motorsport Director Jens Marquardt and MS&AD Andretti Formula E CEO Michael Andretti talk about the close partnership and their expectations for the future of Formula E.
Mr Marquardt, Mr Andretti, Season 4 of Formula E is already underway. What are your goals with the MS&AD Andretti Formula E team?
Michael Andretti: "Our goal is obviously to do better than in the past. Last year was not the best for us. I hope we can improve on that. A realistic goal would be top-five finishes if we can get there. Maybe we can also pick up the odd podium here and there if things work out."
And from a BMW perspective?
Jens Marquardt: "We are obviously immersing ourselves even deeper into Formula E this year, and will be more heavily involved in the MS&AD Andretti Formula E team. We have three employees working full-time with the team this season. We are also supporting wherever and however we can to extract the maximum out of the package, together with the drivers. It goes without saying that we are also using our resources back in Munich. At the same time, we at BMW Motorsport and BMW i are obviously also gathering information, which will help us to develop the powertrain for Season 5. That programme is running parallel to this."
Michael, you have been actively involved in Formula E from day one. How has the series developed in that time?
Andretti: "It is fantastic to see how the dream of Formula E founder Alejandro Agag has become reality. His vision was for Formula E to offer companies like BMW a stage on which to compete against other manufacturers out on the racetrack. He has achieved that. It is a great honour for us to have been involved from the outset. We are a part of the future of motor racing."
Jens, did you believe that the series would develop so well?
Marquardt: "Yes, I did. And it was also important that BMW was involved from the start as Official Vehicle Partner of the series. There were obviously a few things that we discussed with Alejandro and his guys. Our involvement was dependent upon a few changes being implemented in Formula E. The roadmap that Alejandro drew up, with all the technical steps, actually happened. That simplified our decision to be involved as a manufacturer out on the track. We then found a team, in Michael's outfit, which operates at a top level in motor racing and has a wealth of Formula E experience. That was really an ideal scenario for us. Taking this partnership to the next level working together in Season 4, while at the same time looking ahead to Season 5, is very exciting for all of us."
You have both experienced motorsport in many different racing categories. What do you find so fascinating about the Formula E project?
Andretti: "For me personally, it is primarily the venues. I am really impressed when we arrive at locations like New York, Paris, London and Hong Kong, where other racing series have been trying to race for decades. It is amazing what Alejandro and his team have achieved."
Marquardt: "For me, it is more the technological side of things. In the past, we have often spoken about transferring things from motor racing to the production side. Never has that applied more than in Formula E. Here, we have a real tech lab for our production technology. Everything we do here is cutting-edge technology. We have exactly the same engineers as developed the BMW i3 and the electric powertrain for the BMW i8. We told them: 'forget all the boundaries you normally have to consider in development, and just focus on performance, maximum efficiency, lowest weight, and the best overall package'. Once we have achieved that point, we will consider how exactly we can integrate that into production. For example, for the BMW iNext models and all future BMW i models. For us, this is the perfect realisation of our motto: from the racetrack into the street car."
We're excited about the 10 countries announced on the #FormulaE schedule & …
9 #IndyLights Venues, 8 ?? Racers, 7 Iowa ? Trophies, 6 #Indy500 Drivers, 5 Golden Rings, 4 #IndyCar Championships, 3 #GRCSeries Titles, 2 #XGames ? & ☝?Shield to Represent it All! #AllAndretti pic.twitter.com/ydm1WEXdDz

— Andretti Autosport (@FollowAndretti) December 22, 2017