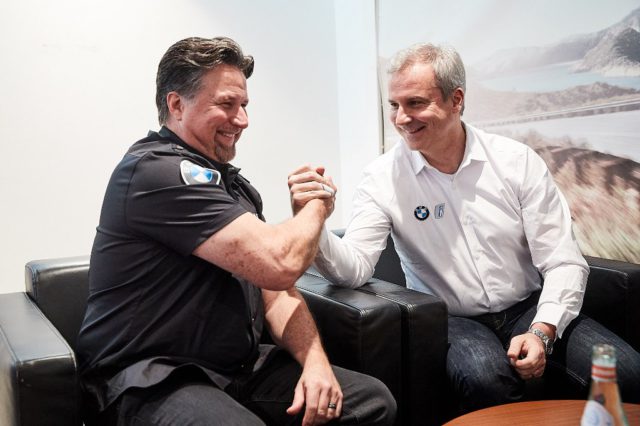 BMW Motorsport Director Jens Marquardt and MS&AD Andretti Formula E CEO Michael Andretti talk about the close partnership and their expectations for the future of Formula E. This is the second part of their interview.
Before your partnership began, what did you know and think of your future partners? Michael, what did you know about BMW Motorsport?
Andretti: "I have always followed what BMW Motorsport have done, and they win in everything they do. Our team already has a strong partner in Formula E, in MS&AD, with whom we work together superbly. The fact that we are also constantly stepping up our collaboration with BMW is a fantastic situation."
Jens, you have worked in the USA for many years. Did the name Andretti already have special meaning for you?
Marquardt: "Yes, it really did. But that goes a long way back. I don't think Michael actually knows this story. As a ten-year-old, I always used to race my brother to school on our bikes. He was always Jackie Stewart, I was Mario Andretti – because Michael's father used to drive that beautiful black and gold John Player Special Lotus. I even won a few races to school as Mario Andretti. I came to America in the late 1990s, where I was involved with IndyCars, in which Michael was a hero. He won a lot of races, including many against the team I was working for. This family name – and Michael himself, with everything he has achieved: you don't find that kind of thing very often in motorsport."
How well do Germans and Americans work together?
Andretti: "I think it works well. Sure, the cultures are a little different, but we are all racers in the end. That is what it is all about, so we speak the same language in that regard. We have seen for a few years, with our partner MS&AD Insurance, how well different cultures can complement each other in motor racing."
Marquardt: "I think we complement each other very well. What Michael and his guys bring to the party, combined with the sometimes rather stubborn and tight German approach really works well, because you need both to be successful. It is true that the cultures differ a little, but at the end of the day we are united by the passion we share for racing."
What is your roadmap for Season 5? Is there a BMW roadmap and a team roadmap?
Andretti: "That is already altogether. At the moment we are working very hard together toward the powertrain for Season 5. At the same time, we are also working to be as successful as possible this season with the MS&AD Andretti cars. The roadmap is the same on both sides."
Marquardt: "It is really a challenge, and is probably more difficult for Michael and his team at the moment than it is for us at BMW. They have to be fully focussed on Season 4, the racing side of things, while at the same time setting up the tests for the new car, as soon as it is ready. Development of the powertrain is currently mostly done in Munich. However, from next year we will work even closer together on the test and development side. The goal is to have maximum performance and efficiency from the start of Season 5."
The next race will take place in Marrakech. Is driving in Africa special? Are you looking forward to it?
Andretti: "I love the fact that the series races on so many different continents. It is cool to head from Hong Kong to Marrakech, then on to South America. And we are not just going anywhere in these countries, but to the very heart of them, to the city centres. That is what makes Formula E so unique."
Marquardt: "The outing in Africa just goes to show that Formula E is a truly global series. At the same time, it also says that E-mobility is global. The major cities of this world, no matter which continent they are on, will be electrified in the near future. BMW, as a global player and pioneer, has to be involved. We are looking forward to appearing in Marrakech in January, then on to South America, North America and Europe."
What are you waiting for, get your tickets for the #RomeEPrix now! #FormulaE https://t.co/swx90dTixl pic.twitter.com/NuW0Cz6oUz

— MS&AD Andretti FE (@msadAndrettiFE) December 18, 2017