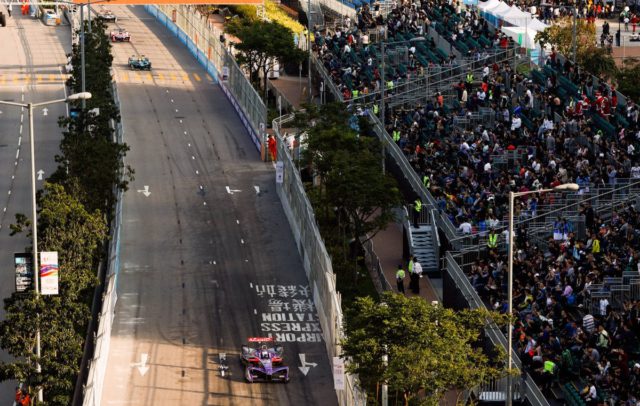 Sam Bird survived a drive-through penalty to open the 2017/18 Formula E season with victory around the streets of Hong Kong. Bird trailed Techeetah pole sitter Jean-Éric Vergne during the early stages. As Both pulled away from the pack, following a half-hour red-flag delay due to a first-lap crash at the rear of the field.
Bird sat behind Vergne for much of the opening stint. And than he made his move into Turn 6 on Lap 20 to wrestle away the lead, with the former F1 racer reacting by pitting at the end of the lap.
Sam Bird came in shortly after. But he compromised his prospects when he erred upon attempting to enter his garage, as he ran deep, missed his box and clipped pit equipment.
Drama in the pit lane as @sambirdracing misses his garage… #HKEPrix pic.twitter.com/56TaD6ppVV

— FIA Formula E (@FIAFormulaE) December 2, 2017
Despite the drama, Bird was able to complete his car swap within the mandatory minimum time. And he emerged still in the lead, which he gradually extended over Vergne.
However, Bird was placed under investigation for not completing his car swap within the garage, having abandoned his first car outside of the awning.
As a result, Bird was issued with a drive through penalty, seemingly making the scrap for second, between Vergne and a resurgent Nick Heidfeld, as the battle for victory.
However, Bird established enough of a buffer to ensure he emerged from his drive-through still in the lead. And from there he reeled off the remaining laps to record a comfortable win. Vergne mounted a stern defence to fend off Heidfeld for second, with the German avoiding the trouble that befell several of his opponents for the podium positions.
Oliver Turvey vaulted from seventh to third at the start. And led a close train of cars, which featured Heidfeld, Abt, Lucas di Grassi and Buemi. Turvey slowed on track, costing him valuable time. While Abt past Heidfeld amidst the Mahindra driver aborted attempt at usurping Turvey – suffered a problem with his second car.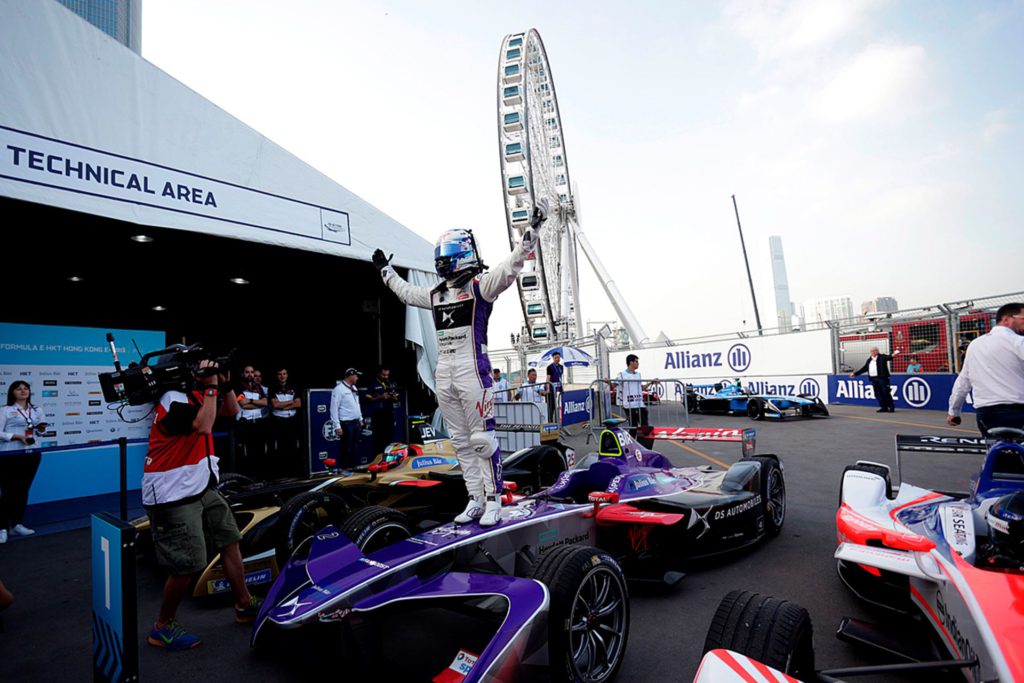 Regular title contenders di Grassi and Buemi, meanwhile, made minor contact on the approach to Turn 1. The Renault driver attempted to pass the reigning champion. Di Grassi suffered damage in the clash and pitted a few laps later with right-rear suspension issues. While Buemi later stopped on track, his car requiring a reboot.
The setbacks for several front-runners left Maro Engel a fine fourth. But he received a time penalty for excessive energy management and dropped to 14th place. 2014/15 champion Nelson Piquet Jr. claimed the position, in front of the delayed Abt, and Andretti's António Félix da Costa.
Felix Rosenqvist suffered a subdued opening lap before being spun by debutant Luca Filippi. For which the Italian was penalised, and came home 7th. Edoardo Mortara, Alex Lynn and Nicolas Prost rounded out the top 10.
Buemi and di Grassi, after their respective issues, finished outside of the points in 12th and 18th positions.
.@sambirdracing wins the 2017 FIA Formula E HKT Hong Kong E-Prix, with @JeanEricVergne and @NickHeidfeld make up the top three #HKEPrix pic.twitter.com/y1v8oYXIXK

— FIA Formula E (@FIAFormulaE) December 2, 2017