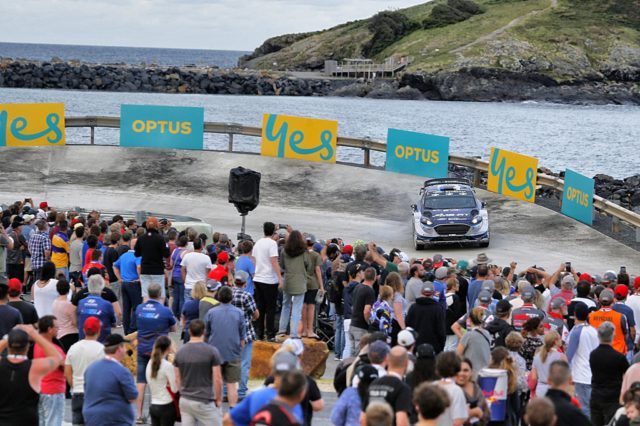 Ott Tanak and Martin Järveoja started Rally Australia intent on an attack through the loose-surface terrain – determined to overcome their early road position and challenge for victory.
Damaging the rear aerodynamics of their Ford Fiesta WRC through both loops of stages, their chances of victory were diminished but the Estonians remain in a close battle for the podium positions – just 12.2 seconds adrift of the top-three.
Ott Tanak (6th) said:
"It's not been the start of the rally that we were hoping for and it's not been easy with our road position. Obviously, Thierry [Neuville] has done a good job so we can't complain too much, but we had some damage to the aerodynamics early in both loops which made it even more difficult."
"Looking at the gaps, it's still really close and the podium isn't too far away. For sure it will be difficult with the cleaning tomorrow, but we have two very long days to come. If we can find a bit more performance and attack hard, anything is possible."
Sébastien Ogier and Julien Ingrassia were always going to be at a disadvantage this weekend – opening the road and having to contend with some of the most challenging road cleaning of the year.
Expecting to lose time, the Frenchmen impressed with a third fastest time through the opening speed test, but the loose-gravel of the later stages soon caught up with them. Combined with an intermittent gear selection issue, the pairing finished the day in eighth place overall.
Sébastien Ogier (8th) said:
"It's not been the optimum start to the rally, but we knew that we would be at a disadvantage this weekend. We had a gear selection issue throughout the day which didn't help, and on the second two stages, in particular, you could see the road getting better and better with every car."
"Of course this means that we don't have a great road position for tomorrow – when we expect the road cleaning to be even worse – but we will still try to enjoy. We're far from a strong result at the moment and it won't be easy for us tomorrow, but there's still a long way to go and we will keep pushing."
Bringing back the car into service and this is the ? of day 1 at @RallyAustralia ??@MSportLtd #WRC pic.twitter.com/wCmAxL6NUi

— Sébastien Ogier (@SebOgier) November 17, 2017
Elfyn Evans and Daniel Barritt travelled to Rally Australia knowing that the conditions were unlikely to favour them this weekend.
Focused on the job in hand, the British pairing remains intent on completing all of the stages unscathed and gaining vital knowledge and experience for the future.
Elfyn Evans (10th) said:
"We knew the conditions were unlikely to suit us this weekend. It's all been about getting the experience and getting the notes fully up to date. This afternoon was a bit better, but we're still just focused on the job in hand – on getting through the stages and taking the maximum we can away from this weekend."