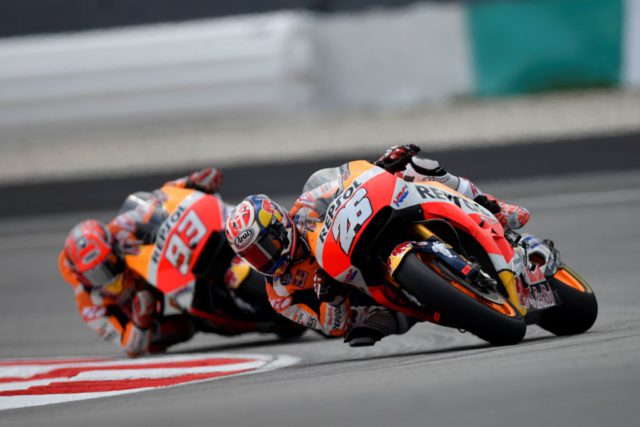 On Monday Marc Marquez and Dani Pedrosa attended the presentation of the brand new Honda models at the EICMA Show in Milan, Italy. On the same occasion, they took part in the Honda 2018 racing programme presentation together with fellow HRC riders from Dakar, MXGP and WTC teams, before heading to Valencia for the season finale. The Gran Premio de la Comunitat Valenciana will be the deciding round between Marc Marquez (282 points) and Andrea Dovizioso (261 points) for the 2017 MotoGP Riders World Championship.
Since the World Championship series was introduced in 1949, this will be the 18th occasion in which the premier-class title will go down to the final race of the year (including 1993 when, strictly speaking, the title went down to the last round with Kevin Schwantz leading injured Wayne Rainey by 18 points).
In the MotoGP era this will be the fourth time, the others having been Valencia 2006 (Hayden-Rossi), Valencia 2013 (Marquez-Lorenzo), and Valencia 2015 (Lorenzo-Rossi).
This will also be the third time in Marc's career that he has fought for the title at the season-finale Grand Prix, the others having been Valencia 2010, versus Nico Terol (Marc won the 125cc Title, finishing fourth), and Valencia 2013, versus Jorge Lorenzo (Marc won the MotoGP Title, finishing third).
In Valencia, Marc will take the title if Dovizioso does not win the race, or if Dovizioso does win and Marc finishes 11th or better. In addition, after securing the Constructors World Championship in Malaysia a fortnight ago, the Repsol Honda Team will have the possibility to win the Teams World Championship.
The Repsol Honda Team have earned three double-podium finishes at Valencia: 2013 (Dani Pedrosa 2nd, Marquez 3rd), 2014 (Marquez 1st, Pedrosa 3rd), and 2015 (Marquez 2nd, Pedrosa 3rd).
Marc Marquez
"Of course it will be natural to feel some pressure in Valencia with so much at stake, but honestly there has been pressure for the entire second part of the season. And the fact that we've been able to manage some tricky situations, as was the case at the last race in Malaysia, gives me a positive feeling. Regarding the track, I feel good because I like Valencia. It's an anticlockwise circuit, which normally suits me. Of course, it's also good to have a points advantage to manage. That said, we won't think too much about any of those things. We definitely don't think it will be easy, so we won't go to Valencia with any extra confidence. We'll keep the same mentality and working method that have brought us to where we are, and we'll give 100 percent because it will be important to be fast beginning with FP1."
Con la familia Honda en la presentación de Milán! / With the Honda family in Milan's presentation! #HondaEICMA pic.twitter.com/RFPPzCxVpu

— Marc Márquez (@marcmarquez93) November 6, 2017
Dani Pedrosa
"We head to Valencia in a positive mood, looking to try and finish the season with a good result. I always feel a good atmosphere there, and I get a lot of good energy from the fans! We made a step with our bike setup in Malaysia and this gives us confidence for the weekend. Valencia is a track that I like a lot. I've been strong in the past and had good results so I hope to that the bike works well there and we can do a good race."
A bit too cold already! Good session! / ¡¡Ha llegado muy pronto el frío en Nyon!! Buen entreno por la mañana ??❄️??? pic.twitter.com/YOGWUcRT54

— Dani Pedrosa (@26_DaniPedrosa) November 2, 2017