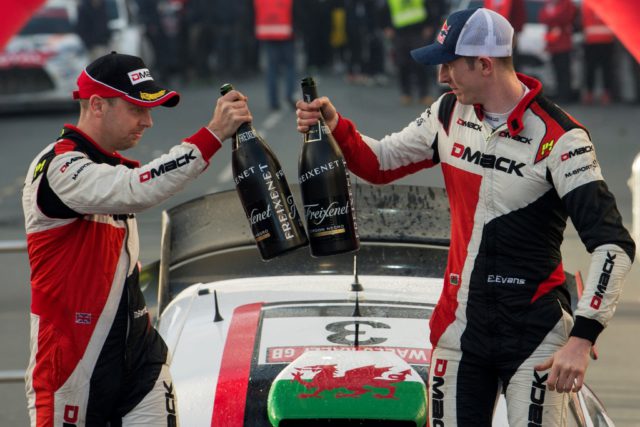 The host of the post-event press conference wasn't having that. Elfyn Evans had just won the 2017 Daysinsure Wales Rally GB, he'd ended a 17-year wait for a British winner, a lifetime's wait for a Welsh winner and he'd given the journalists… "Pretty good."
But that's Elfyn. Hyperbole's just not his bag. It's straight up and straight down the line. Earlier this year he was on target to win his first ever FIA World Rally Championship event in Argentina, but he missed it by seven-tenths of a second.
This time, he was bang on target. The duck was smashed. Triumph and disaster. Evans met both impostors and treated them just the same.
To continue the Kipling line, he certainly hadn't allowed his dreams to become his master. "Is this something I'd dreamt about?" he pondered, "I don't know. I've always tried not to think too far ahead."
Well, if he hadn't, there were tens of thousands of Welsh men, women and children who certainly had dreamed of this moment. His father Gwyndaf, a former British Rally Champion himself, being the prime candidate.
"It's incredible," said Evans Sr. "I'm so proud of what he's achieved, so proud. We've waited a long time and it's been a long road, but we're here."
And the bloke sitting next to Elfyn had had a little more time to dream this particular dream. Dan Barritt is cut from the same cloth as Elfyn, albeit from the eastern side of Offa's Dyke; Burnley-bred and totally grounded.
"I've been in this sport a bit longer than Elfyn," said Barritt. "I did Rally GB for the first time 17 years ago, but even before that, I'd been watching rallies since I was four or five. It's been my life and you do think about what we could achieve. After coming so close in Argentina, we both knew this was possible, but actually doing it, it's still a bit of a dream."
Evans delivers a predictably practical assessment of the situation
"Dan and I were talking about this on the way back from the last stage," he said.
"I think we can both get we've won the rally and that's a big deal, but what probably hasn't sunk in and will take a while is that we've won Rally GB. That'll maybe come when you look down the list and see all the names up there before us. That's when we'll realise this is special. Of course, it's special, coming in this part of the world. This is where I grew up and it's where I live now."
Last year, on this very rally, Elfyn was just another one of the locals out watching the rally. He was very nearly out of work. "I was," he said, "I was out spectating. At that time nothing was sure for this season. There was a chance of something and we were working towards it, but nothing was certain – far from it. It was a tough."
"Since then maybe I've changed a bit, maybe there's a bit more strength of character. I don't know, that sort of thing happens without you realising I guess."
Emyr Penlan has followed and reported on Evans' entire career for Welsh language television station S4C
He saw the biggest change last year.
"Elfyn's had a lot of knock-backs in his time," said Penlan, "there's been a fair bit behind the scenes, things that have been hard for him and things that a lesser person wouldn't have come back from. But he has and this is what's made him stronger."
"But last year, when he was dropped from M-Sport and put back into an R5 car, that was the point where he said: 'Screw this, I'm going to show them…' He came into this year breathing fire. He was a different driver, he'd manned up and was ready. This win has been coming all year."
M-Sport team-mate Sebastien Ogier is of a similar opinion
The five-time world champion has been a huge presence alongside both Evans and M-Sport's other younger driver Ott Tanak this season.
Ogier's tenacity, ability and all-around champion mentality have rubbed off on Evans. M-Sport team principal Malcolm Wilson: "You can see it, the time with Sebastien has made a difference. Elfyn's got real confidence in himself now. We see it in the debrief; before he would have been quiet, not saying much. But now, he's got a voice and a real opinion on things. It's fantastic."
Evans enjoyed an advantage with his tyres in Wales, running DMACKs more suited to the conditions than the Michelins everybody else was on, but Ogier wasn't interested in any of that. The Welshman's Ford Fiesta WRC, like his own, still had to be handled through some of the toughest conditions of the year.
"He has done an amazing job," explained Ogier. "To drive and not put a foot wrong all weekend in stages like the ones we have here in Wales is fantastic for him, especially when we had the fog coming on Saturday night. He and Daniel, I have to say congratulations to them. They have done it."
They have. Two of the most down-to-earth and likeable lads in the sport, really have done it.
So lucky to be a part of this incredible team. Congrats @MSportLtd mega job by everyone. Thank you! pic.twitter.com/V3kYfbAd03

— Elfyn Evans (@ElfynEvans) October 31, 2017