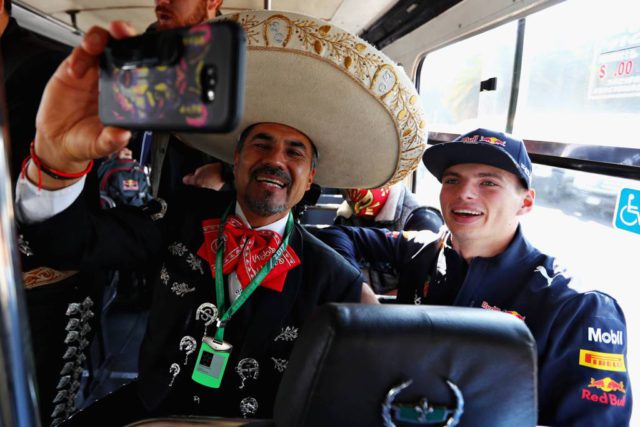 Max Verstappen was the centre of attention after the United States Grand prix because of the penalty he got. The Red Bull driver lost his podium and had some strong words for the race stewards. In Mexico, he said his feelings on the matter were pretty much the same.
"In general it was a great race. I really enjoyed that. The pace of the car was great again. That's now three times in a row we were really competitive and I just hope to continue that way here in Mexico". Verstappen said.
"Well, I think after a race the emotions run high, especially you have been taken off a podium, which I think I deserved because I think the punishment was not correct because everybody was running off the track in Turn 19, 8 and 9. Even in Turn 6 when you were behind someone you were cutting the inside, a lot of cars were doing it. And then also the fans, I think they loved it. It was a great move and then they tell you that you are gaining an advantage while overtaking someone."
"If I was really gaining an advantage I would do it every single lap, which you are not, so I don't think it's gaining an advantage. Like I said, a lot of other people did it as well, they were cutting the inside of the corners, and then I'm the only getting penalised, is, of course, I think, not correct. And then I think it's quite normal that I get angry. Of course, I could have used a few different words but at the end of the day I still think the decision is not correct."
Disappointed with the inconsistency in decisions regarding track limits this whole weekend. Feel robbed but it was a superb drive ? #USGP pic.twitter.com/Ua6ccOTsIA

— Max Verstappen (@Max33Verstappen) October 22, 2017
Verstappen did not want to clear out which steward he had in mind with the "idiot" definition used in Austin
He was in a really good mood and explained what helped him get over the disappointment.
"I had an event on Monday and then I just stayed around Houston, because that's where I had to be and played FIFA. I mean, at the end of the day I still had a great day. Of course, I was not happy that they take away my podium, but you also have to look at the positives and that was that it was a great race, for sure. I'm still a happy person because the speed was good."
As the stewards in the United States declared Verstappen's pass illegal, the driver was asked what can be done so that such situations do not happen in the future.
"It's not self-discipline, I think we know quite well what to do and what not to do", Max answered. "But they never told us anything. Already from lap one in practice one, everyone was running wide. It was all fine. Then, of course, if it's not mentioned, they never tell us anything, then, of course, we try to go as quick as we can. I think there is a very simple solution. Let's put grass on the inside, or gravel or whatever, that you cannot cut over the kerbs. For example, in Suzuka I don't think we have those issues, do we? So it's quite clear."
He also stated that it is important to be able to express his opinion.
"That's the way I am. I'm not going to hold back or lie. I'm just straightforward."
He explained that he feels good at the team.
"The improvements we made this year I think they have been the most of the whole grid, especially in the last few races, we have been really competitive. And also I think how we are going to start this next year will be better than how we started this year. I believe in the team and what is also very important is that you have people around you who really support you. They are good friends to you as well, and there is just a really good atmosphere in the team, so why would I give that up? At the end of the day, if we can sort out the horsepower deficit then I'm sure we can win races."
"The relationship [with Daniel Ricciardo] is really good. And also in the team, there is not like two sides, it's like one big side. Everybody can be happy for each other if somebody has a good result, so I think that's also very important."