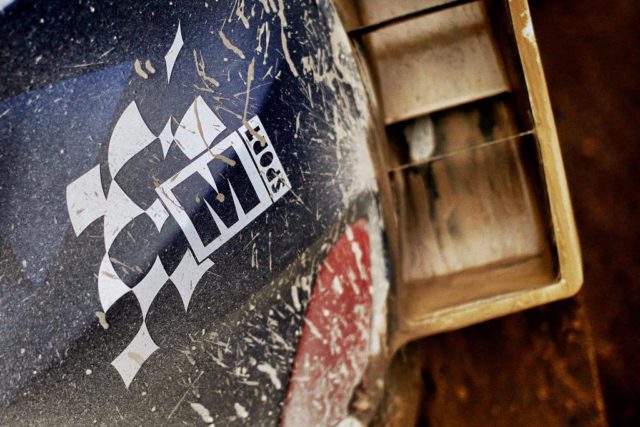 As M-Sport embarks on the twelfth and penultimate round of the FIA World Rally Championship, the stage is set for a historic Dayinsure Wales Rally GB – the Cumbrian squad in with a strong chance of securing the 2017 FIA World Rally Championship for Manufacturers.
With the crown within touching distance, M-Sport requires just one of their three Ecoboost-powered Ford Fiesta WRCs to reach the flying finish of the final stage. Do that, and the Cumbrians achieve the unthinkable – a private team from the edge of the English Lake District beating some of the world's largest automotive companies.
If that weren't enough, Sébastien Ogier and Julien Ingrassia also have their first mathematical chance of securing the drivers' and co-drivers' titles – giving Malcolm Wilson's team the potential of a dream double celebration on home soil.
With a record-breaking 13 Ford Fiestas in the M-Sport service park, the team will have to be at the top of their game and have left no stone unturned in their pursuit of success – success which they hope to celebrate throughout the field.
"It's hard to find the words to describe just what a momentous achievement we are on the verge of securing this week", team principal Malcolm Wilson said
"When we started developing the Ford Fiesta WRC, I knew we had the people to design a competitive, rally-winning car, and we always hoped to be in this sort of position. Now that it is a reality, it really is hard to find the words."
"But it's not done yet and we cannot forget just what a challenging event Wales Rally GB can be. The changeable weather, unpredictable grip and long days make it one of the most demanding events of the year."
"All three of our drivers have proven what they are capable of in Wales, and I have no doubt that all three of them are capable of securing the best possible result. But anything can happen and we must remain at the top of our game to get the job done."
Sébastien Ogier and Julien Ingrassia have an opportunity to rewrite not one but two history books at Wales Rally GB
Having won the event on four previous occasions, a fifth victory would make the French pairing the most successful in the event's 85-year history.
A win would also see the reigning world champions retain their crown for a fifth straight season. Second place and a Power Stage victory would also see Ogier and Ingrassia seal the deal – regardless of what their nearest rivals achieve.
Other permutations rely on the performance of teammate Ott Tänak and rival Thierry Neuville, but Ogier can lose six points to Tänak, seven to Neuville and still take the crown.
"This event is steeped in motorsport history and I think it's fair to say that Wales Rally GB is one of the most iconic events on the calendar. It's one that everyone wants to win and we'll certainly be hoping to be in the battle for victory", Sébastien Ogier explained.
"It's one of the most challenging rallies of the year. And there is a real art to judging the grip levels through the forests. It's an event that takes a while to get to grips with – quite literally – but I have to say that I now feel at home on the Welsh stages."
"Clearly, this could be a very special event for the team and it also provides us with our first mathematical chance of securing the drivers' championship. But we can't think too much about that. We just need to focus on enjoying the rally and delivering the best performance we can."
Having made his world rally car debut at Wales Rally GB in 2011, the British fixture holds special significance for Ott Tänak who has driven a top-specification Fiesta on five of his six previous outings in the Welsh forests
Relishing the challenge of unpredictable grip through the fast, flowing stages, Tänak secured his best result of second at the event last year in the closest finish of the 2016 season.
This year, he and co-driver Martin Järveoja will be looking to go one better – keeping their championship fight with teammate Ogier alive in the process.
"Wales Rally GB is a classic in every sense of the word. The days are long and the conditions are unpredictable, but that is rallying and that's what makes it one of the biggest challenges on the calendar. When you secure a strong result in Wales, you know that you have delivered", Tänak commented.
"This will be my seventh time competing in Wales, and six of those were with the top-specification Fiesta. I've got good experience here, and the stages are fast and flowing which I really enjoy. They can get quite slippery and 'polished' over the second pass but, again, that just adds to the challenge that makes this rally so special."
"Obviously, this will be a very important weekend for the team. We're on the verge of securing something really amazing and everyone will be working their hardest to secure that goal. If we could top the weekend off with a win, it would be even better!"
As Wales' most successful WRC driver, Elfyn Evans is never short of support at Wales Rally GB and this year looks set to be no different with the creation of 'Elfyn's Corner'
Situated towards the end of Myherin, Evans and co-driver Daniel Barritt can expect an enthusiastic welcome as they power their Ford Fiesta WRC into sight.
Evans made his WRC debut on home soil with the Ford Fiesta ST in 2007. He won his class and continued to shine thereafter. Elfyn took a WRC 2 victory in 2013 and was in the top-five on his world rally car debut in 2014.
With the Welsh fans behind them, the all-British pairing will be keen to deliver another strong performance this week.
"There's nothing quite like rallying at home and we're in for a classic Wales Rally GB this year. The iconic stages, the weather, the night stages, the long days – this year's offering has it all and it's that sort of challenge that I really enjoy. I'm looking forward to it and to playing my part in what could be a really historic event for the team", Elfyn Evans said.
"It's always amazing to see the Welsh fans out on the stages, and it's true that their enthusiasm gives you that little bit extra. We'll have to wait and see how the conditions suit our package, but we're hungry for a strong result before the end of the year and will be giving it our all this weekend."
The striking 2017 @OfficialWRC @MSportLtd Fiesta's have arrived. The monsters are coming…#WRGB #WRC pic.twitter.com/eE00YJmyUX

— Wales Rally GB (@WalesRallyGB) October 24, 2017