Pure electric car sales are set to surge in 2019 as the latest registration figures reveal 69.5% growth in the sector. In comparison, the car market overall in the latest month's registration figures has a 3% decline.
The growing gap in fortunes between battery power and internal combustion engines means nearly one in every hundred cars registered in November in the UK were pure electric. Now experts are advising motorists who feel ready to take the plunge into pure electric cars to get in quick as 2019 dawns. That is because lead times from order to delivery may grow as demand rises.
The independent electric vehicle consumer advice website DrivingElectric.com says EV is already often taking a little longer to arrive with customers
Global demand for the technology grows faster than for conventional vehicles.
Research by the site shows that lead times for electric cars in the UK typically stretch from 10 or 12 weeks to 6 months. 10-12 weeks is roughly comparable with standard ranges. But it is not that quick to get the highly desirable new Jaguar I-PACE.
Supplies are already low on some models. Such is the Kia Soul – a new model will replace it. Kia says there are now none in 'free stock' and just a few left in showrooms.
Hybrid fans, who prefer the combination of conventional fuel and electric, can drive away already in a Hyundai IONIQ. The company says there's "no lead time" between order and delivery. But plug-in hybrids and pure electric cars in the Hyundai range are so desirable that buyers can expect a four-month wait for delivery. The Kona Electric has proved so popular around the world that the waiting time is now ten months.
Audi is promising the same delivery time of 10 – 12 weeks for the e-tron as for its conventional models
Some manufacturers, however, are offering quicker delivery for their electric cars than standard models, in certain cases. For example, a Golf order takes roughly 14 weeks from placement to delivery. Meanwhile, a standard Polo stretches to 20 weeks. But the e-Golf falls between the two, with a lead time of about 18 weeks.
Or, drivers can take delivery of a Renault Zoe seven weeks sooner than a Clio. It takes 12 weeks from order to customer.
Jaguar's I-PACE created much of a stir, however. So the normal three-month waiting time for a conventional Jag is double (six months) for the highly desirable EV.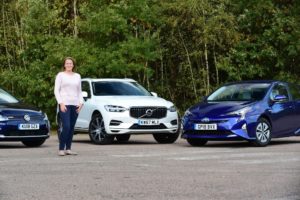 "It has been a remarkable year for electric cars," said Vicky Parrott, Associate Editor of DrivingElectric.com. She added that the segment performed much more strongly than the overall market. Parott pointed out that during 2018  the total of all new car registrations was nearly seven per cent down by November in comparison with the same period in 2017.
"But pure electric cars were up by over ten per cent. And in November itself, compared to the same month a year ago, the overall market was 3% smaller while battery electric vehicles were nearly 70% ahead on the same month last year.
"Plug-in hybrid electric car sales have also risen in 2018 by 26.7%, helped by a combination of interest in electric and the reassurance of the range-extending possibilities of an additional conventional engine.
"With every sign that electric cars are immune to the doldrums much of the rest of the market has found itself in during 2018 we expect demand to rise even faster next year."
Because EVs are seeing a global surge in interest, anyone who has pondered the idea of buying one is advised to stop dithering from this point and get ahead of any future supply bottlenecks caused by their popularity. It's time to stop pondering and pounce instead."
Welcome to the VIP section. #LAAutoShow pic.twitter.com/0pO3FbG9Ng

— Audi (@Audi) November 30, 2018