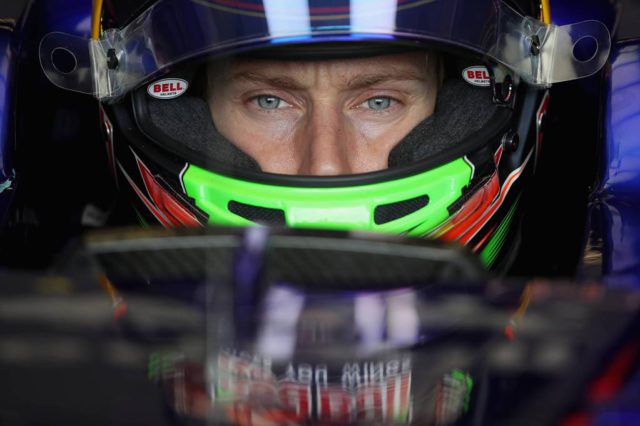 Brendon Hartley will make his debut in Formula 1 this weekend. The New Zealander was called after Pierre Gasly had to commit to the Super Formula finale in Japan and Toro Rosso suddenly had a free cockpit. The driver explained at the Circuit of the Americas that he got in contact with Helmut Marko earlier.
"Actually, when it was announced that Porsche would stop endurance racing in LMP1 for next year, I called Helmut Marko and I said: 'Look, I'm a different driver than I was 10 years ago, I've learned a lot, and if there is ever an opportunity I am ready." He didn't say much, he just said he got the message, and three months later he made the call", Hartley said.
"This happened very quickly. I didn't know about it much sooner than the press did. It's been quite a whirlwind of a couple of weeks to arrive here. Yeah, I'm pretty relaxed at the moment, all things considered. Really looking forward to getting out on track. Obviously, I've had quite a bit of time to chat to the engineers, to go through some data, a little bit of time on the sim. But I'm looking forward to free practice one and see how comfortable I feel and working towards the race start on Sunday, which is a big moment for me, so yeah, really excited."
Hartley went further into the explanation that he was a different driver 10 years ago
He guessed that he was not ready for F1 then.
"I had some success in the early days, I won the Formula Renault championship, I became the reserve driver. Had my first F1 test at 18 years old and I guess I just didn't deal with the pressure", Brendon continued.
"I stopped enjoying it, I wasn't happy; I was pretty young and away from home. When the Formula One dream, so to speak, stopped in 2010, I picked myself up. I found endurance racing and yeah, I have learned a lot from that experience. Being in the LMP1 programme, a high-profile category, where there is a lot of pressure, probably not that dissimilar to Formula One in some ways, in that respect, in development of the race car, and working with team-mates has been great. I'm a lot stronger than I was back then, basically. I wasn't ready at 18 years old. I like to think I'm ready now. I'm not very prepared for this weekend, I haven't the car, I haven't driven a single-seater since 2012, but I like to think that Porsche LMP1 has hopefully prepared me well."
The New Zealander also said that there are no expectations from Toro Rosso towards him.
But Hartley did not hide that he has already looked for advice
"All the friends I have in the sport I've been asking for a bit of advice. I saw Mark [Webber] this morning for breakfast. I saw Daniel, who is one of my best buddies as well, Daniel Ricciardo, I saw him two nights ago, I asked him for all the advice I could manage to get out of him regarding tyres. Yeah, some of it is going to come down to, like I say, driving free practice one, seeing how I go and then asking some of those questions. A lot of them aren't really relevant until I've actually experience the car."
"I didn't know about it much sooner than the press did!" – @BrendonHartley ahead of his #F1 debut at the #USGP pic.twitter.com/Gp580dnmoC

— Formula 1 (@F1) October 19, 2017