Porsche announced that it will leave the World Endurance Championship and will compete in Formula E with a works team. The company will maintain its focus on international GT racing. It will also concentrate its motorsport strategy on using the 911 RSR in the GT class of WEC, the highlight of which is the 24 Hours of Le Mans, as well as the American IMSA WeatherTech SportsCar Championship and other long-distance classics.
The realignment of Porsche's motorsport strategy is in connection with the Porsche Strategy 2025
It will see the brand develop a combination of pure GT vehicles and fully electric sports cars, such as the first fully battery-powered Mission E road car.
"Entering Formula E and achieving success in this category are the logical outcomes of our Mission E. The growing freedom for in-house technology developments makes Formula E attractive to us", says Michael Steiner, Member of the Executive Board for Research and Development at Porsche AG. "Porsche is working with alternative, innovative drive concepts. For us, Formula E is the ultimate competitive environment for driving forward the development of high-performance vehicles in areas such as environmental friendliness, efficiency and sustainability".
Porsche has already taken the first steps towards developing its own Formula E racing car this year.
Porsche will leave the LMP1 class behind after four highly successful years. The brand won three victories in a row at the 24 Hours of Le Mans and World Championship titles in 2015 and 2016. Nevertheless, this year the team wants to defend the two World Championship titles one more time. The season ends on November 18 in Bahrain.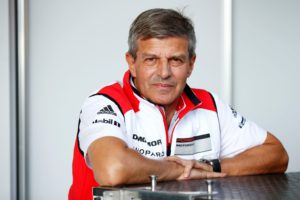 "Building up the Le Mans team from scratch was a huge challenge. Over the years, we have developed an incredibly successful and professional team. This will be our basis going forward. I am certain that we will maintain our high level in Formula E. Confidence is high, and we are excited to get started", the LMP1 vice president Fritz Enzinger commented.
Porsche will keep the successful LMP1 team fully intact, including the factory drivers
Porsche is examining other fields of application and development areas, while participating in other racing series and preparing intensively for Formula E.
A winning hand! #FormulaE welcomes its fourth German manufacturer, @Porsche >> https://t.co/udnhZ98agz #MissionE pic.twitter.com/x4UgWzM2ZC

— FIA Formula E (@FIAformulaE) July 28, 2017
Porsche will be the fourth German automotive manufacturer. Mercedes, BMW and Audi, which already took over the Abt Shaeffler team, already committed to the championship.
"If somebody told me when we started this project five years ago, that we'd be announcing a partnership with a brand like Porsche, I wouldn't have believed it", Alejandro Agag admitted.
"To have a name like Porsche in Formula E, with all it represents in terms of racing and heritage is an inflexion point in our quest to change the public perception about electric cars. The electric revolution continues. And Formula E remains the championship for that revolution."
FIA President Jean Todt also pointed out that Porsche has a fantastic history in motorsport.
"Its intention to join Formula E alongside so many of the world's biggest car manufacturers is very positive. It's clear that the hard work done to create a relevant laboratory for developing electric vehicle technologies has been successful. I look forward to seeing Formula E continue to be a place of great sporting competition as well as innovation. I'm very happy that Porsche is coming to Formula E. But I regret their decision to leave the World Endurance Championship."
Meanwhile, the Automibile Club de l'Ouest, which is the promoter of WEC and organiser of the 24 Hours of Le Mans, issued a statement. The organization said that it is sorry for Porsche's precipitous departure. The statement added that the reduction of costs and stability will be vital for WEC's future.
#WEC Statement on the departure of Porsche from LMP1 👇https://t.co/UYSo1MyB4p

— FIA WEC (@FIAWEC) July 28, 2017
With the introduction of both Porsche and Mercedes, season six would see the number of teams increase to 12
From season five, Formula E will no longer require two cars per driver and the potential of a mid-race car change. Each team will compete with two cars from the 2018/19 season onwards, instead of the current four. That is a clear testament of the advancement in battery technology and another step in developing it. New-look futuristic cars will also debut in season five and will incorporate new electric technology to allow for a single car to complete a full race distance.