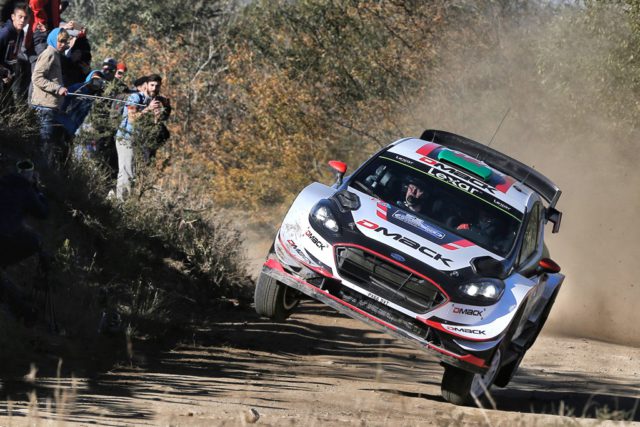 Wales's most successful rally driver, David Llewellin, is tipping his fellow countryman Elfyn Evans for great success – and even a historic victory – on this month's Dayinsure Wales Rally GB (26-29 October).
Although a number of Welsh co-drivers have won Britain's classic round of the FIA World Rally Championship, no Welsh driver has ever stood on the podium let alone won their home event. Indeed, no British driver has triumphed since Colin McRae and Richard Burns racked up three wins apiece in the glory years between 1994-2000.
Llewellin, a double British Rally Champion in 1989 and 1990, led the event briefly when competing for Toyota in 1989, but ultimately never finished higher than sixth.
Now aged 57 and living in his native Pembrokeshire, the former champ still follows the sport avidly and is one of a number of Welsh Rally Legends being honoured on this year's Dayinsure Wales Rally GB. What's more, he firmly believes that the country's latest rallying star, Evans from Dolgellau, has what it takes to write the history books in the coming weeks.
"It would be fantastic to see Elfyn do it this year. And I think he has a very good chance," predicted Llewellin. "I've been watching him closely. He's been improving over the last 18 months – he's shown he's one of the best in the world. If things work for him, we could see a Welsh winner."
It would be fantastic to see Elfyn Evans do it this year and I think he has a very good chance, predicted Llewellin
Evans missed last year's event while securing a top drive for 2017. He already has two top-six Wales Rally GB finishes under his belt. Now, as a member of the title-hunting M-Sport squad, he has underlined his potential with second places in both Argentina and Finland. These rallies are loose surface rounds that are not dissimilar to the tricky conditions found in the legendary Welsh forests. But can he – together with his Lancashire-born co-driver Dan Barritt – live up to Llewellin's expectations and score what would be a hugely-popular win on home soil?
"We're really in for a classic event and it should present us with a really good opportunity," he admitted. "Hopefully we can bring home a great result."
To do that, Evans will have to overcome a full of stars field. It includes his two M-Sport team-mates Sébastien Ogier and Ott Tänak as well as Hyundai's top gun Thierry Neuville. All three are still in the battle for this year's WRC crown. Although enjoying a best-ever season, sixth-placed Evans is no longer in title contention.
Whatever his prospects in Wales, the 28-year-old from Gwynedd is certainly looking forward to the rally
The event promises to be a fantastic spectacle featuring a new era of even more powerful and spectacular rally cars.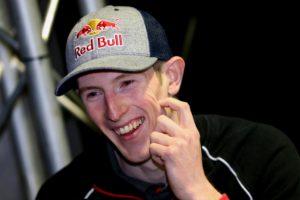 "The feeling driving these new-generation cars has been absolutely incredible all season, and I really hope that the spectacle on the outside will be everything that it is for us inside the car," grinned the 2012 WRC Academy champion.
"There are some fantastic stages and this year, there will be an element of endurance. Saturday in particular will be a tough stint, going back out in the evening in the dark. That will be tricky, as will the whole rally, to be fair."
"I hope to see a lot of fans out there on the stages cheering us on. It's normally a fantastic atmosphere, and I'm sure this year will be no exception. Hopefully we can reward them with something to cheer on Sunday afternoon."
Busy week ahead. Pre-event tests with @ElfynEvans @tomcaverally @johnmaccrone & @CA1Sport then final preparations for @WalesRallyGB pic.twitter.com/an9HHCSvHg

— DMACK Tyres (@DMACK_Tyres) October 16, 2017