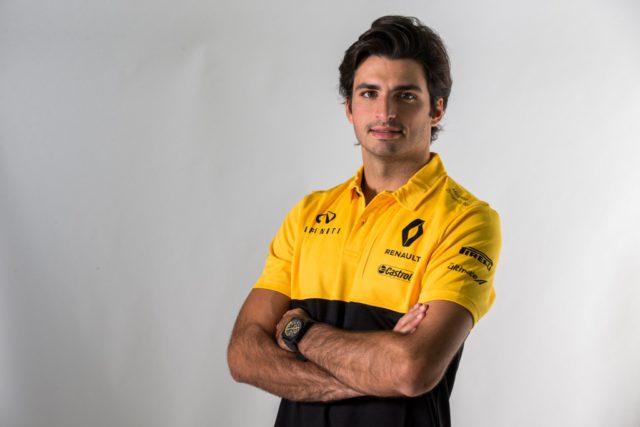 Carlos Sainz arrives at the Renault Formula 1 team with a wealth of knowledge and success in Renault machinery throughout his career. And the 23-year-old feels excitement for his first outing in the R.S.17 around one of his favourite Formula 1 circuits.
How are you looking forward to working with the team?
I'm very excited to join the team and I hope to hit the ground running. We have some hard work ahead of us going into Austin with lots of things to learn and many people to meet. I'm going to give everything to be on the pace as soon as possible even though I know it can take a bit of time to adapt, but I'm confident we can do it.
What are the main challenges that come with your arrival?
It's key to have this immediate taste with Renault and get to know the people and the car. It's a big challenge, but it motivates me. We have this last push for the season and I have to find where the limit of the car is, get used to the steering wheel, things like that. That's the procedure and I will embrace the challenge. It's good to see the people at Enstone putting the work in to get back to the top. They can be sure all the effort being put in is being matched on my side of things and I will be pushing flat out to help the team.
It's one of my favourite tracks and one of my best races in Formula 1 was there last year, finishing sixth. I can go there with confidence as I know how to go fast in Austin. I just need that adaptation to the car and the engineers. The first sector is special, it's one of these modern tracks which has a good design, very fast with quick changes of direction and high G-forces. I love these sort of tracks and it's a good opportunity for me to test the limit of the R.S.17.
Are you looking forward to pairing up with Nico Hulkenberg?
We are very close together in the championship, but we haven't had too many on-track battles. I'm really looking forward to working with Nico. I think he is a great driver and one of the most talented on the grid. He has lots of experience in Formula 1 so I will learn from him as soon as I can. Hopefully, we can both help the team move further up in the championship before the end of the season.
Thanks Nico! Cant wait to start pushing the team forward together! ?? https://t.co/2rNXoRKDn3

— Carlos Sainz (@Carlossainz55) October 16, 2017