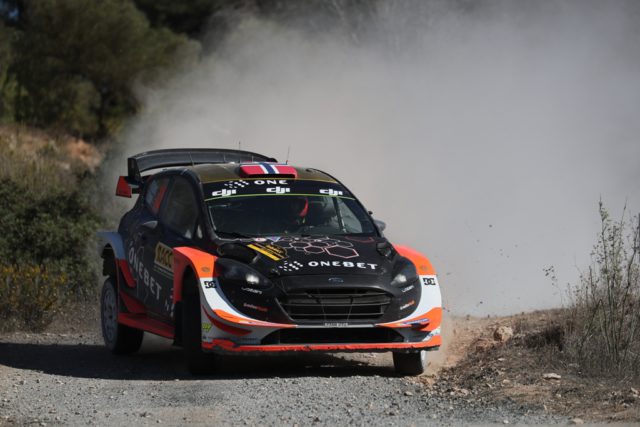 Mads Østberg recorded his seasonal best result in Rally de España when he and co-driver Torstein Eriksen finished in 5th place in their Ford Fiesta WRC. That was a wonderful early present for the Norwegian, who turned 30 a couple of days after the race – on October 11th.
"Spain has been a confidence-building event. We knew we could be fast on the gravel and led the rally after four stages. We have managed to progress enormously on the tarmac and gradually became faster on each stage during the Saturday and Sunday. It has really been a challenge to learn how the 2017-spec car works on tarmac. It is so much faster than the previous generation WRC-cars, and it's like I have had to learn everything from scratch", Mads Østberg explained.
This has not been a rally without challenges. Mads was leading on the first day even with problems with dust coming into the car. Then on the long SS6, the heater stuck on full blast, making the conditions inside the car almost unbearably hot for Mads and codriver Torstein. Saturday there was a drama with hitting a rock on SS12 and damaging the steering and a wheel, and then further problems with the hydraulics on SS13, the spectator stage in Salou.
"Sunday, however, was near perfect with no issues to speak of and a controlled drive without taking any risks", the Norwegian privateer continued.
"The team performed brilliantly. Its five years since we did a WRC rally with our own Adapta Motorsport crew, but it's like they haven't been away at all. I would also like to thank Torstein Eriksen, who did only his second WRC-event and really did a professional and great job."
Mads Østberg recorded his seasonal best result in Rally de España
The tarmac experience from Spain will be of good use later, but not until next season as the championship finishes with gravel events. Now the stage is set for fog, mud and possibly sleet and snow in Wales.
"It's one of my favourite rallies where I have been very competitive before. The gravel stages in Spain gave us the answer that we are right on the mark on the loose stuff. My goal for Wales is to fight for a possible victory", Mads Østberg concluded.
Thank you for all your greetings on my 30th birthday ? #yourock pic.twitter.com/GrR85wDlMB

— Mads Østberg (@MadsOstberg) October 11, 2017