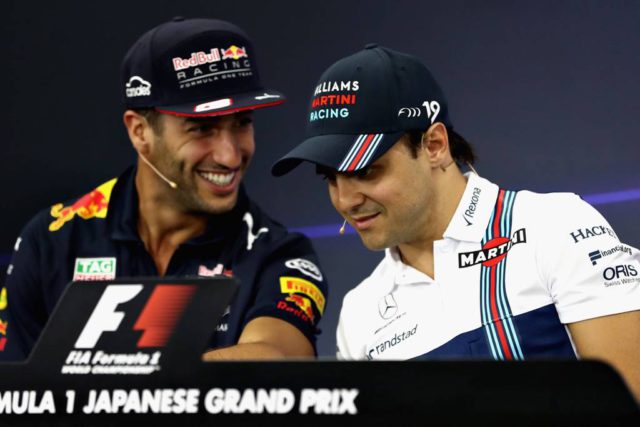 At this time last year, Felipe Massa was already planning his retirement after announcing it at the Monza circuit in September 2016. But things took a different turn and the Brazilian continued racing in Formula 1. Now he does not know what the future holds for him, especially as there are reports that Williams will evaluate other drivers. According to different sources, the Grove team will have two test sessions – on October 11th at Silverstone and on 18th at Hungaroring for Paul di Resta and Robert Kubica. Despite that Massa feels relaxed and is enjoying this season.
"I am trying to do the best I can in the last races this year and I don't know what's going to happen next year", Massa continued.
"But I'm quite relaxed. I'm quite keen to do maybe another season, as I think I can do it in a great way. I can give a lot to the team like I did already and I think maybe I can do another year. But I don't decide; the team decides. We are in discussion with the team for next year."
"So everything has some directions around, so I have my direction as well to follow, like a professional driver, like I was always in my career in Formula One and I am very happy for that. That's the way it is and definitely, I can do a good effort for the team but we need to find a good solution to carry on in the right way, that everybody is happy. If people are happy that I stay, I stay, and I will do everything I can to stay at the top level."
Felipe explained at Suzuka as well that there is no deadline for the conversations. But according to him, it would be good if there is a decision before the Brazilian Grand prix.
As for the Di Resta and Kubica test, Massa said it changes nothing for him
"Williams know 100 percent what I can give to the team and, even if you do a test with a car that is four years before, completely different. You cannot evaluate too much, as well. So, doesn't change anything for me, to be honest", he said.
Asked if he would attend the test, the Brazilian answered: "No! I don't know. Don't know even if it's true, that test, or not. I don't know. To be honest… I don't know."
Team-mates enjoying the @F1 press conference. And how to caption the second photo?… Any ideas @MassaFelipe19 @danielricciardo #JapaneseGP pic.twitter.com/KWF1qdQaoY

— WILLIAMS RACING (@WilliamsRacing) October 5, 2017