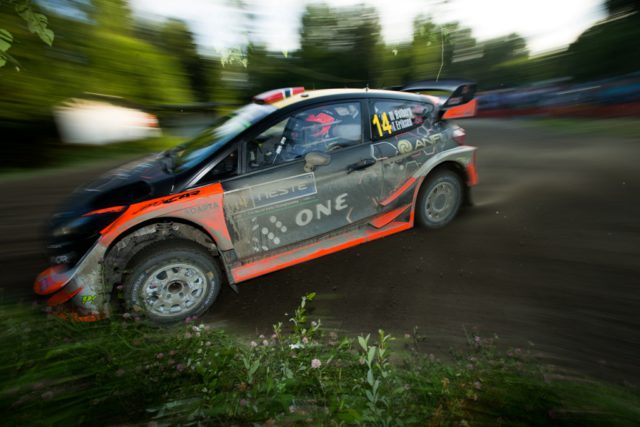 Mads Østberg is back in the world rally championship for Rally de España. In Spain, Torstein Eriksen will be his co-driver in the Ford Fiesta WRC. The Norwegian privateer chose to drop Rally Germany in August. But now he is back in business under his new team banner Onebet Adapta World Rally Team.
"We have decided to end the cooperation with the Jipocar organisation and run the car with our own team. It's really nothing dramatic or sensational about that, as we have run under the Adapta banner and with our own people in the WRC before", Østberg explained.
Having been out of the championship since Finland in the end of July Mads is looking forward driving competitively again and to the unique character of Rally de España.
"The combination of gravel and tarmac stages is unique in the championship and definitely a special challenge connected to the driving and the technical aspect", the Norwegian continued.
"I hope to use my starting position for the gravel stages on Friday to my advantage. The gravel roads in Spain are medium speed and technical in character, which should suit me well. The tarmac roads are super smooth and as close to tarmac racing we experience in the WRC, and I hope to be able to show that I can be competitive also on that type of roads."
Mads Østberg is back in the world rally championship for Rally de España
Its two months since the last WRC event for Mads, but he had competitive outings in other series. Three weeks ago he did a couple of races as a guest driver in the Swedish Porsche Carrera Championship, and with good results. Last weekend he drove the last round of the Norwegian Championship with his Fiesta WRC and Emil Axelsson as co-driver. As expected, he won the rally with a clear margin.
"The Porsche drive in Sweden obviously couldn't compare with rallying, but it was valuable driving experience on tarmac. And I wasn't too bad as a tarmac racer, really! The rally in Norway was used as a gravel test, and we had very good progression trying different set-ups during the day. The rally also gave me the chance to have Emil Axelsson in the car with me, as we are still evaluating different codriver choices for next year", Østberg said.
Shakedown action @OfficialWRC @RallyRACC @OneBet_com
? Roar Jahr ?? pic.twitter.com/xKgmN0KjwU

— Mads Østberg (@MadsOstberg) October 5, 2017