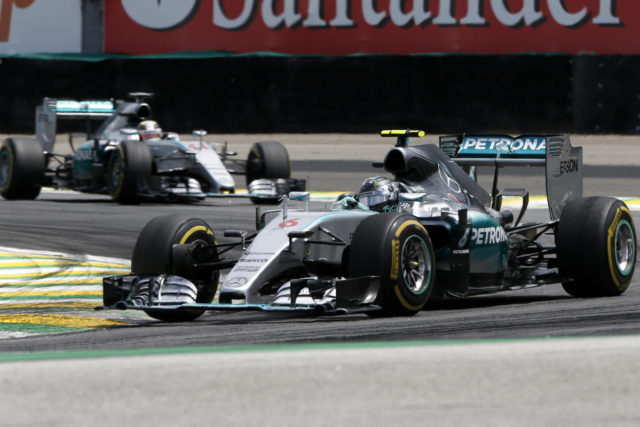 The Mercedes F1 team is looking for the Brazilian Grand Prix next week, where the battle for the title between Nico Rosberg and Lewis Hamilton resumes. The German has 19 points advantage over Lewis and if he wins, he will clinch the drivers championship for the first time in his career.
"Mexico wasn't ideal. I was going for the win as always but Lewis was just a little bit faster all weekend, Rosberg said. –  Sometimes you just have to accept that and be satisfied with your work. I'm not going to change my approach. I need to keep doing what helps me perform at my best and that's going for the win every time.
There are still two races to go and anything can happen in this sport, so I need to focus my energy on the factors that I have in my control. I've got good form in São Paulo. It's one of the real classic tracks, which usually produce some exciting races, so I'm looking forward to getting out there and having a big battle in front of those awesome Brazilian fans."
Hamilton, on his side, explained: "It's a great feeling when you're able to show the kind of pace I' ve shown at the past two races. Everyone has worked so hard and the car has really been faultless. The speed has been there all season – I just haven't always had the opportunity to take advantage of it. In terms of the Championship, it's an unusual scenario to be in – fighting for something and not knowing for sure that what you do will guarantee you're able to make it.
One outcome would be painful and the other would be a great achievement. Regardless, I'm going to keep pushing. Since the beginning of my Formula One career I've seen that everything can change even at the very last moment, so you have to fight to the bitter end. I have never won in Brazil, so I go into this weekend focused on changing that."
The team boss Toto Wolff added: "Mexico brought us the best possible result from a race which was far from straightforward. It also leaves us with a fascinating scenario heading to Brazil. For Nico, all this talk of just needing to finish second in order to make it to the end is over. He has it in his hands. If he wins the race in Brazil, he is Champion. We've seen many races, particularly in the second half of this season, where he has coped well under pressure. But, mentally, I think this new situation is actually a bit easier in terms of tackling the situation with a little less pressure, as he still has another chance in Abu Dhabi.
Equally, Lewis knows what he must do to keep his title hopes alive. He will never back down and that's what makes him one of the great ones. He has three Championships and 51 victories under his belt – and no matter the outcome this year, we all know there will be more to come. It's a really interesting dynamic and great for the fans. As a team, we will do all in our power to provide both with the opportunities they need. We're maxed out on performance, as is normal at the end of a regulation cycle, and when that happens everything becomes more marginal. This is where we find ourselves right now, so we must remain focused on every last detail."