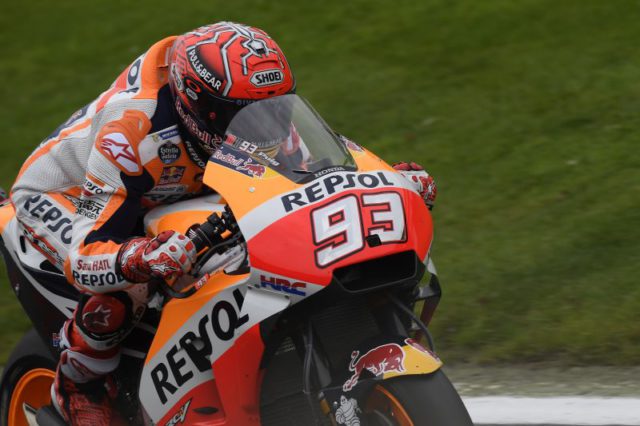 Repsol Honda's Marc Marquez took a record-breaking pole position for tomorrow's British Grand Prix with a 1:59.941min lap, an astonishing performance that made him the only rider in MotoGP history to lap under the two-minute barrier at the Silverstone track.
Marc's fourth pole in a row and his sixth this season also extended his all-time record to an incredible tally of 71 poles across all classes. The Championship leader will be joined on the front row by Valentino Rossi in second place and by fellow Honda rider Cal Crutchlow, who qualified in third at his home track.
Marc Marquez
"I'm very happy with this pole. Honestly, before qualifying I didn't expect to be able to get below two minutes, but when I put on the soft rear I felt extra grip and was already able to do 2:00.1min on the first run. At that point I understood that I could do better and maybe arrive at 1:59. I didn't do a perfect lap—here that's very difficult as it's a very long track—but it was a good one and we were able to achieve our target to be on the front row."
"Anyway, what's more important for tomorrow is our rhythm, which isn't bad. Our pace was also good yesterday, but the feeling I had with the bike was a bit worse compared to today. Tomorrow we'll try to refine a few more details in the warm-up and choose the correct rear tyre for the race. It will be a long, tough one, as several other top guys have a good pace as well, but if everything is fine and we feel good, we'll go and fight for the podium and, why not, for the victory as well."
Pole position en #BritishGP! Empujando al límite ✊? QP – P.1
Pole position in Silverstone! Pushing to the limit ✊? #MotoGP pic.twitter.com/IioahFBrkT

— Marc Márquez (@marcmarquez93) August 26, 2017
Valentino Rossi
"I always lose a bit in the final section, I have a bit too much spin. I think I had a big advantage up until that point. Marc was barely inside the 1:59.9, so I lost a bit, but not a lot. I'm close to the pole position, unfortunately it was not enough, but I'm so happy to start from the front row, that's very important for the race. With the pace we are not fantastic, we're a bit in trouble. I hope we have the time to try to fix all of the last details and I hope to be competitive tomorrow and fight for the podium.
#MotoGPFanQ: Ever wondered why @ValeYellow46 crouches next to his bike? Well now we know… pic.twitter.com/HgvNUxSgEF

— MotoGP™??? (@MotoGP) August 26, 2017
Cal Crutchlow
"The expectation is that we can be on the podium tomorrow. We have to think like that because last year we were and I don't think there's any reason why we can't do it this year. Marc, Valentino and Maverick (Viñales) are all very fast too. So I will have to play a good game and hopefully we can have a good battle in front of the home crowd."
"The key today was to make no mistakes. And I didn't make any big ones although I did run a bit wider in turn 13. Last year I had pole here in the rain, then a dry ride to the podium, and I honestly don't see any reason why we can't do that again tomorrow."
"I'm disappointed! I woke top this morning and I wanted to go under 2 minutes!" – @calcrutchlow #BritishGP pic.twitter.com/upU112ZOfB

— MotoGP™??? (@MotoGP) August 26, 2017