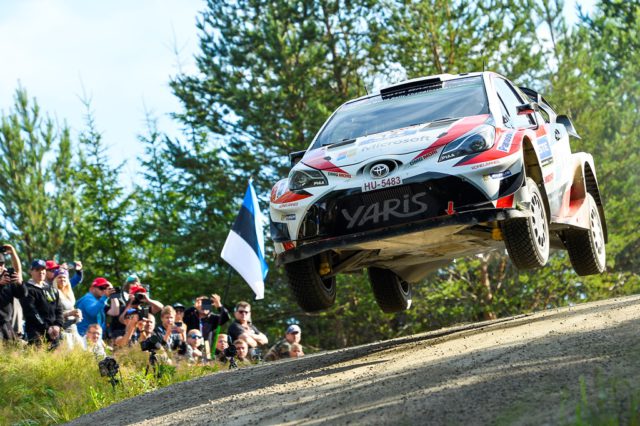 Esapekka Lappi was truly surprised to be in the lead of Rally Finland after the first day of the race. His advantage to Jari-Matti Latvala was not that big (4.4sec) but even the much more experienced Finn admitted he did not expect Lappi to be that quick.
"I could never have imagined I would be leading Rally Finland", Lappi commented.
"Just competing here in a World Rally Car has been a dream I have had since I was a small boy. That I am leading is hard to comprehend. But it's been a really clean run so far with no mistakes and the car has been perfect. I've given it my all. I won't force myself to fight against Jari-Matti if it means I will take too many risks. It feels so special to be leading this rally, the spectators are amazing, you just can't feel that anywhere else."
"I could never have imagined I would be leading Rally Finland", Esapekka Lappi commented
Latvala added he was happy with the performance for the day.
"Of course, Esapekka was always going to be fast, but I didn't think he was going to be such a hurricane and that we would be the top two in this position after the first full day. The car is working well; I'm very happy with the balance and generally, my driving has been good. When you have no other issues and a good car, you can just focus on the driving. There's a little bit of a home advantage I think, as our car has been developed in Finland on roads like these. My confidence is high, but at the same time I'm trying to avoid taking any big risks", he said.
Team principal Tommi Makinen said the day was absolutely brilliant for the team but everybody expects a very tough fight during the next two days. He also added that he has no concerns over his drivers battling each other.
"They are enjoying driving the car and feel really confident. I will let them do their job", Makinen explained.
LAPPI: @EsapekkaLappi completes SS11 to big cheers here on the stop line! ?? @TGR_WRC @RallyFinland @OfficialWRC #WRC #WRCjp #RallyFinland pic.twitter.com/CfzEC4VJ7v

— RallyingUK ? (@RallyingUK) July 28, 2017