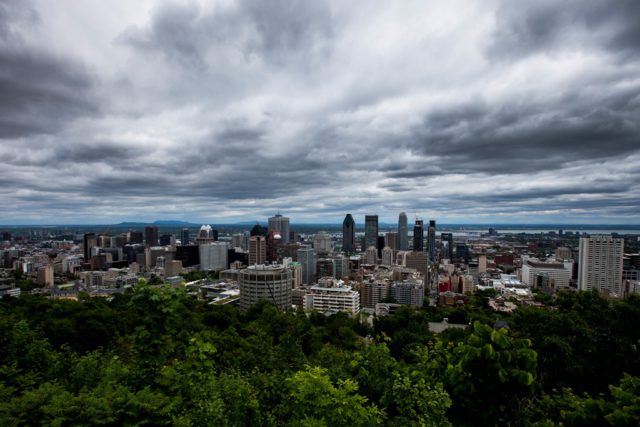 The 2016/17 Formula E season draws to a close with this weekend's Hydro-Quebec Montreal ePrix. Rounds 11 and 12 of the season play out on a thrilling new street track in downtown Montreal. The stakes are high, with both the drivers' and teams' titles on the line.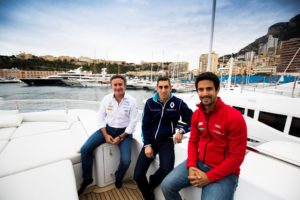 Sebastien Buemi is aiming to be the first driver to defend the Formula E title, but Lucas di Grassi, Felix Rosenqvist and Sam Bird are out to stop him. Renault e.dams has won both previous teams' titles. But Abt Schaeffler Audi Sport will do everything it can to end that run.
The #FormulaE class of 2016/17! ? – Ready to kick off the 2017 Hydro-Quebec #MontrealePrix ?? pic.twitter.com/z2Dxouq1xZ

— FIA Formula E (@FIAformulaE) July 28, 2017
The story so far
Three wins in the opening three races gave Buemi the perfect start to his title defence. A rare slip up in Mexico was a temporary blip and he recovered with back-to-back wins in Monaco and Paris.
However, disqualification in Berlin Race 1 was costly. And even though he responded by winning in Race 2, the fact that he was forced to skip the New York races means that in spite his dominance the championship remains in the balance.
Di Grassi started the season with second place in Hong Kong. That was a result, earned off the back of great pitwork and strategy from his team. They repeated the trick to even better effect in Mexico for his sole win of the year.
He's taken two Julius Baer Pole Positions this season – his first in the series. Fourth and fifth place finishes in New York have moved him to within 10 points of Buemi. And that gives him a fighting chance of the title.
Visa Fastest Lap on his debut, pole position second time out and a podium finish to boot, Rosenqvist capped a strong debut season by taking Mahindra's first win in Berlin. Second place in New York kept him in the title fight, albeit in the very loosest of terms.
The same applies to Sam Bird, who scored more points with a double win in New York than he had managed all season up to that point.
Renault e.dams kept up its remarkable record of scoring points in every race thanks to the consistency of Nico Prost and the heroics of Pierre Gasly on his debut in New York in place of Buemi
Daniel Abt has been fast but unlucky in the second Abt Schaeffler Audi Sport car. But the team retains a distant chance of ended Renault's run of championship wins, while Mahindra has been on fire recently and is gunning for second place.
There's a different type of pitlane and car swap procedure this weekend as @Sebastien_buemi demonstrates #MontrealePrix pic.twitter.com/DWnVIQRxio

— FIA Formula E (@FIAformulaE) July 28, 2017
Drivers' championship
Sebastien Buemi – 157
Lucas di Grassi – 147
Felix Rosenqvist – 104
Sam Bird – 100
Nico Prost – 84
Nick Heidfeld– 78
Teams' championship
Renault e.dams – 259
Abt Schaeffler – 194
Mahindra – 182
DS Virgin– 153
TECHEETAH – 94
NextEV NIO – 59
The Montreal ePrix
Formula E's first visit to Canada also marks the first time that the championship will be decided anywhere other than in London, as Battersea Park was the setting for the previous two finales.
Montreal has a great motorsport heritage. The Circuit Gilles Villeneuve has hosted a Formula 1 race on and off since 1978, while NASCAR, IMSA and Indycar have also used the Belle Isle track at various points.
The province of Quebec is also home to two of the finest tracks in North America, Trois-Rivieres and Mont Tremblant, which briefly held the Canadian GP in the late 1960s.
Now the Montreal Street Circuit goes on the list as well. It's one of the finest tracks created for Formula E so far. The configuration has a challenging mix of corners, elevation changes and a surprising amount of width for a street track.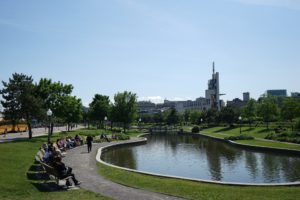 Length: 2.75km
Turns: 14 – 5 left, 9 right
Direction: Clockwise
Surface: Asphalt
Outright lap record: n/a
Official lap record: n/a
Local heroes
Unfortunately, there are no Canadian drivers racing this weekend, however, through their exploits in other series – mainly F1 – drivers such as Nick Heidfeld, Jean-Eric Vergne and Nelson Piquet Jr will receive a warm welcome.
There has been one Canadian who previously raced in the series – Jacques Villeneuve drove three times for Venturi in Season 2. But there will be one familiar face in the paddock – Indycar and NASCAR star Patrick Carpentier – who is the official ambassador of the race.
The city
With a population of around 1.7 million, the city of Montreal is the most highly populated in the province of Quebec. This number increases to over four million across the metropolitan area.
Evidence has been found of human settlement in the area dating back to 4000BC, while the native American inhabitants of what used to be called Hochelaga were cultivating maize as long ago as 1000AD.
French explorer Jacques Cartier visited Hochelaga in 1535. Over the next 100 years, colonists gathered in area establishing trading posts and small settlements. The city of Montreal was incorporated in 1832. It quickly became the financial and cultural heart of what was then known as British North America.
The British North American Act in 1841 formed the Dominion of Canada of which the Province of Quebec (formerly Lower Canada) was a part. This was an area that had previously been a French colony until the land was surrendered to the British. To this day the majority of Montreal residents (over 60 per cent) speak French as their first language. Indeed, Montreal is legally a French-speaking city, although there are a large number of other ethnic groups with Italians, Spanish, Brits and Chinese represented in significant numbers among many others.
Montreal is famous for its jazz, film and comedy festivals, while the city contains numerous venues of varying sizes, making it one of the most culturally diverse cities in North America.
It held the summer Olympics in 1976, but the number one sport in Montreal is ice hockey, with the Montreal Canadiens one of the most successful teams in Stanley Cup history
There is also an MLS team – Montreal Impact – while American (Canadian) Football and Baseball also have well-supported franchises.
Alongside the financial industry, Montreal's varied economy also includes aerospace, electronics, tobacco and of course the Molson brewing company, which has been an enthusiastic supporter of motorsport in the city.
For a large city, Montreal has good air quality. It has a rating of 20 out of 500 on the Air Quality Index
However, despite this, it is estimated that around 1500 people each year die as a result of air pollution related illnesses.
Almost all (99 per cent) of Montreal's electricity comes from renewables. Hydroelectric is the primary source, supplemented by wind and biomass production. In fact, the province of Quebec is the fourth largest producer of hydroelectricity in the world behind China, Brazil and the US.
Quebec has committed to a wide-ranging programme of electrification within the city, with a pledge to have 100,000 electric cars on the road by 2020. To aid this Montreal plans to have 1000 charging stations installed by that point.
First look at the spectacular Montreal street circuit. Ride onboard with @RFrijns #MontrealePrix pic.twitter.com/MdhIUEzE6o

— FIA Formula E (@FIAformulaE) July 28, 2017