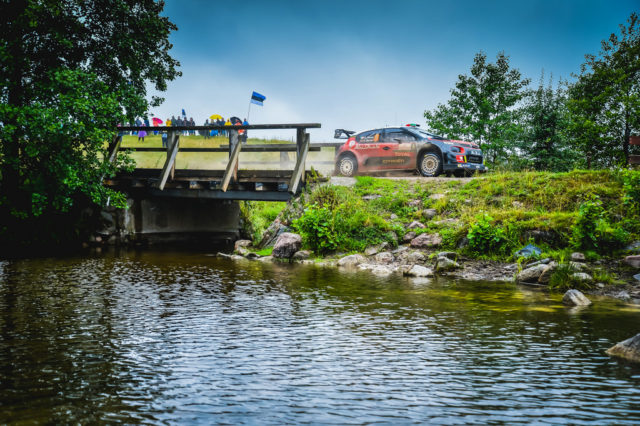 All three Citroen C3 WRCs reached the final in Rally Poland. Team principal Yves Matton concluded after that performance and Stéphane Lefebvre's fifth place that the recent upgrades to the cars were clearly beneficial.
With three cars making it the end without needing to use Rally2 rules, the technical team were delighted to collect as much data as possible on such a specific event. After that work continued in preparation for Rally Finland (27-30 July), where three C3 WRCs will be entered for Kris Meeke, Craig Breen and Khalid Al Qassimi. For the ADAC Rallye Deutschland (17-20 August), the drivers will be Kris Meeke, Andreas Mikkelsen and Craig Breen.
"We had defined this rally as the start of a new phase in our season", Yves Matton commented
"The upgrades made to the Citroen C3 WRC were clearly beneficial, even if the weather didn't enable us to show that all the time. With three cars that completed the entire rally in normal racing conditions, the engineers will be able to analyse all the data and continue with the development of the car. I'm also very pleased to see Stéphane Lefebvre claim his first top-five finish with the C3 WRC. It serves as confirmation of his potential, given his continuing limited experience at this level."
Fifth place was Lefebvre's best result during the season until now
During the last day of the race, he clipped a fence and drove during a part of a stage with wooden post wedged in his car's radiator grille. The reason for the incident was the driver got distracted by left under his feet tools.
"It's a morale-boosting result for everyone after such a difficult start to the season", Lefebvre said.
"I'd like to thank the team, who have never stopped supporting me, and my engineer, who helped me to put together the best rally of my career so far. Whenever there was enough grip, I felt sufficiently confident to push. I won't be competing in the next two rallies, but I can head off on holiday in good spirits!"
.@SLefebvreRallye and @moreaugabin replaces José Pedro Fontes at the wheel of a Citroën DS 3 R5 at Rally Madeira wine 2017! pic.twitter.com/YRHkLf6jPG

— Citroën Racing (@CitroenRacing) July 7, 2017
After dropping down the field with a mechanical issue on the first day, Craig Breen completed a strong comeback to finish in eleventh place
The Irishman gathered some invaluable experience for the next few rallies.
"This rally has been one of the most difficult of my career and I'm just glad I made it to the end", Breen admitted. "We all worked hard to improve the car, but I never managed to feel really confident. We're going to do some testing before Finland, so that will help me to prepare well for the rally where I scored my first podium last year."
The @CitroenRacing team had risen to the Poland Rally challenge! Relive this epic race in pictures! pic.twitter.com/D92hwjZgs5

— Citroën (@Citroen) July 3, 2017