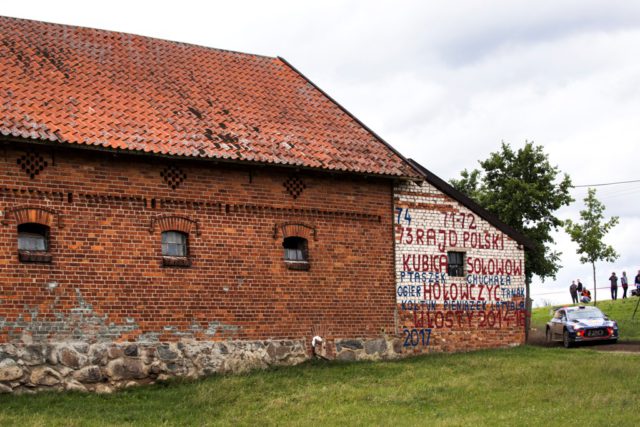 Hyundai scored a double victory in Rally Poland. Thierry Neuville won the eighth round of the 2017 WRC, while his teammate Hayden Paddon finished second.
And @thierryneuville & @nicolasgilsoul bring home the victory at @rajdpolski! Third #WRC win for the Belgian duo this year! 🏆🎉💪🇧🇪 pic.twitter.com/UoF8KeM10I

— Hyundai Motorsport (@HMSGOfficial) July 2, 2017
#RallyPoland
1️⃣ Neuville
2️⃣ Paddon
3️⃣ Ogierhttps://t.co/MLTj29fF8N #wrc pic.twitter.com/3aR5vn3dV9

— Michelin Motorsport (@Michelin_Sport) July 2, 2017
Ott Tänak retired from the lead of the race a couple of stages before the finish
"Touched a bank with the rear and the front spun round and hit a tree. It was nothing really, but that's the way it goes sometimes", Tänak explained.
"I've left so many people down and feel so sorry for Team and all these Estonian fans – you were all incredible! Sorry."
…see you @RallyFinland , @OttTanak 👊🏼! Power Stage SS23 now live on https://t.co/twccZ0hRvh 🇵🇱 @rajdpolski #WRC pic.twitter.com/j0FmCLVHoW

— WRC (@OfficialWRC) July 2, 2017
I've left so many people down and feel so sorry for Team and all these estonian fans – you were all incredible! Sorry 😔 pic.twitter.com/NMv4BX8Gp9

— Ott Tänak (@OttTanak) July 2, 2017
Neuville claimed his third victory of the season and cut Sébastien Ogier's championship lead to 11 points with five rounds remaining.
The four-day rally provided edge-of-the-seat drama throughout in torrential rain, driving winds and thick mud. The lead changed hands 10 times in 23 stages as title chasers Neuville and Tänak traded tenths of a second on blisteringly fast roads.
Neuville began Sunday's final leg in front, but a stunning drive through the opening speed test promoted his Estonian rival ahead. But in the next stage Tänak slammed his Ford Fiesta into a tree.
He limped to the finish but the damage was too great to continue. Neuville eased through the remaining kilometres to head team-mate Hayden Paddon by 1min 23.9sec, with Ogier a further 56.9sec adrift in third.
"Ott drove a great rally. In such a fight nobody gives up. I wasn't ready to give up and was prepared to win," said Neuville, for whom this was a sixth consecutive podium.
"I was sorry for him and congratulate him on the job he did before he crashed. He was amazing again and one guy who was hard to beat."
Tänak was chasing his second straight win after claiming a maiden victory in Italy last month. It was the third year he has tasted disappointment in Poland after leading in 2015 and 2016 but failing to secure victory.
"It was the only muddy place in the forest. Maybe I didn't expect it to be that bad. I hit a bank with the rear and it pulled the front into a tree at high speed. Was I driving too hard? You need to push hard if you want to win," said a disappointed Tänak.
Paddon ended a torrid 12 months since his last podium. The Kiwi could not match the pace of the early starters on Friday's rain-soaked and sludgy tracks, but an error-free event combined with several stage wins as conditions improved brought its reward.
Ogier was blighted by a string of problems in his Fiesta, including sliding into a field this morning but the Frenchman persevered to finish 26.6sec clear of Dani Sordo. The Spaniard punctured a tyre but ended 24.4sec clear of Stéphane Lefebvre, who equalled his career-best result.
The WRC's summer speedfest continues at Neste Rally Finland, the fastest round in the championship, which is based in Jyväskylå on 27 – 30 July.