Porsche achieved a hat-trick of victories at the 24 Hours of Le Mans with its win in the 85th edition of the legendary endurance race. It was not an easy success but was still very important. And a record 19th one for the German brand.
"One of our ambitious targets for the 2017 season was to achieve a hat-trick at Le Mans. But what we have gone through over the past 24 hours, you could not imagine in your wildest dreams", Porsche's Vice President LMP1 Fritz Enzinger commented after the finish.
"This 24-hour race just pushed everything and everyone to the limit. It is unbelievable what you can achieve in a focused team effort. Sometimes it is not the fastest car but the best team performance that makes the difference. This team is the best of all and made this success possible. The reaction from everywhere is overwhelming – from Porsche employees and also around the world. Personally, I can only say thank you to Porsche for putting me in the position to set up such a great programme and thanks to every single team member for the total support and the great team spirit."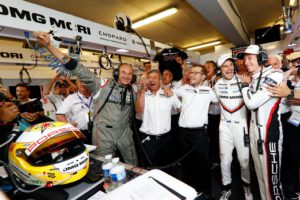 Enzinger: What we have gone through over 24 hours, you could not imagine in your wildest dreams
Team Principal Andreas Seidl admitted it was hard to find words for what happened. The #2 car was thought to be out of the fight, yet it was the Timo Bernhard/Earl Bamber/Brendon Hartley crew that crossed first the finish line and retained the trophy for the company/
"The drivers and the entire team have done an amazing job", Seidl added.
"We can put two tough weeks behind us that provided some highs and lows but we fought with typical Porsche spirit. It will take some time for what we have achieved today to sink in. We've now won Le Mans three times in a row which is just sensational. The team worked relentlessly for this over the past twelve months.
"Toyota was a very strong competitor. They pushed us to the limits and beyond and we both paid the price."
"It is sad that Neel Jani, André Lotterer and Nick Tandy retired from the race because they controlled it for a long time. But Earl Bamber, Brendon Hartley and especially Timo Bernhard deserved to take the race win. Timo was the development driver right from the beginning of the programme. After the long repairs, the three of them kept fighting and were ultimately rewarded."
You're not sure the #LEMANS24 is the greatest race on earth? Watch this video! @Porsche @PorscheNewsroom @24hoursoflemans @FIAWEC pic.twitter.com/ofDPadXG6Y

— Porsche Motorsport (@PorscheRaces) June 18, 2017