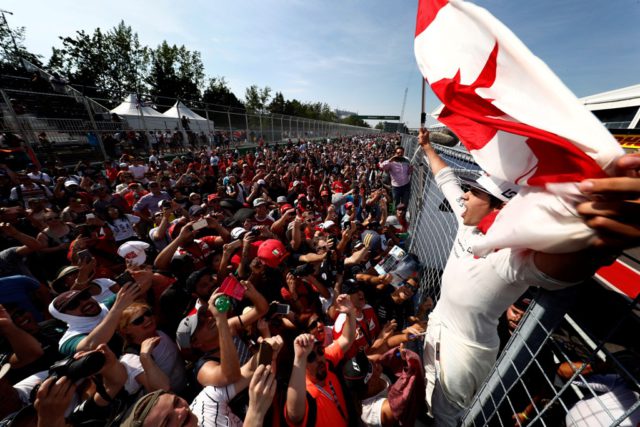 Lance Stroll finished ninth in his first home Grand prix in Canada to claim his first ever Formula One points. At the start, he moved up to 15th from 17th during the opening lap. Following an early safety car and a virtual safety car period, Lance ran as high as P9, after passing Stoffel Vandoorne at the Turn 10 hairpin on lap 15.
Stroll made his first and only pitstop of the race on lap 27 for a set of supersoft tyres. He rejoined the race in P17 but quickly started to gain positions on fresh tyres. He reached tenth position before gaining ninth due to Daniil Kvyat's retirement.
"I am just happy for myself, for the team, for everyone", Lance Stroll commented after the race.
"The balance of the car was good all race. I was in a flow, knew we had good straight line speed in the Williams. I chose my overtakes at the right times, sometimes I could have done them a lap earlier, but it was a bit risky so I did it a lap later and stayed patient. James, my engineer, was giving me good communications throughout the whole race about what was happening around us."
"We just stayed cool-headed and took it to the end and P9. It was about things falling into place and getting everything to work with no issues and being able to do the pace we know how to do. It means the world to me being able to finish a race in the points and be able to see those Canadian flags up in the air at my race."
"I am just happy for myself, for the team, for everyone", Lance Stroll commented after the race
His teammate Felipe Massa's race ended at Turn 3 on lap one, when Carlos Sainz collided with Romain Grosjean and collected the Brazilian as he crashed out. Massa was really disappointed because he thought he had a good chance for points.
Chief Technical Officer Paddy Lowe pointed out that Lance Stroll "is the first Canadian in Formula One since Jacques Villeneuve, and now he's scored his first points at his home race".
"A huge congratulations to Lance", Lowe continued. "It's a great story. Given the difficult start Lance has had to his Formula One career, this feels like a race win to us. It was an incredible drive and he showed some fantastic race-craft, great overtaking and he really earned those points today. From 17th on the grid up to ninth. And that included a battle with a double world champion, which he took in his stride. I think this result will boost his confidence going forward and will give him some real momentum."