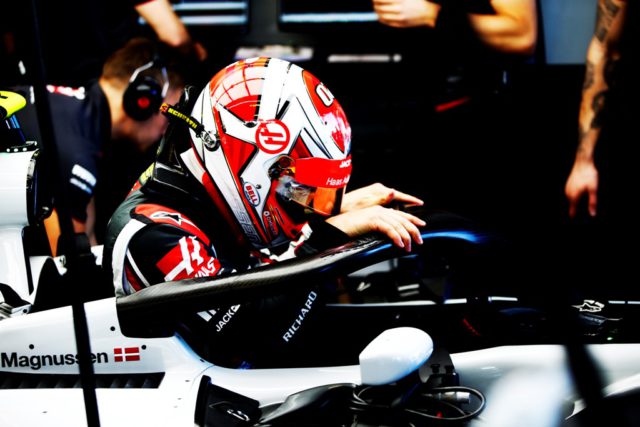 Kevin Magnussen had three consecutive points finishes in the last three races from the 2018 Formula 1 world championship. Now he previews the next round on the calendar – the German Grand prix.
In just its third year, Haas F1 Team is consistently fighting for best-of-rest status behind Scuderia Ferrari, Mercedes and Red Bull. Considering the history and resources available to other midfield teams, what does this achievement say about Haas F1 Team and its potential?
"It's a great achievement. The first three years of Haas F1 Team have been massively impressive. Everyone on the team can be proud of what's been achieved already. Of course, we're going to try and do better every year, but we're already at a level that is hard to maintain."
If you were told back at preseason testing in Barcelona that Haas F1 Team would enter the halfway mark of the season fifth in the constructors' standings, what would've been your reaction?
"I think in Barcelona (at testing) we realized that our car was pretty handy. Our expectations then were already quite high. I'm not surprised by this point to be fifth in constructors' championship. We've got the potential in the car to be even higher than this. We should aim to keep this position, or even target one more position. I think Renault is very consistent, but we can beat them at times, and we have done many times this year. Most of the time we're level with them on pace, so it should be possible to keep fighting for this position all the way to the end."
Much was made about the unprecedented run of three straight races, but it was a stretch of races that worked pretty well for you with a haul of 20 points across the French, Austrian and British Grands Prix. How satisfying was that run of three straight point-paying finishes?
"Those three races were good – scoring points in all of them. I was quite happy with that."
Can the pace and performance you had in France, Austria and England continue in Germany, or will the Hockenheimring's array of tight corners prove slightly troublesome?
"Germany has a mix of corners with high, medium and low-speed turns. It's a good, all-around track. I think it will be possible to overtake there as well. Let's see. I think it's probably not a track we're looking forward to the most in the season, but we can still score points, I'm pretty certain."
Haas F1 Team introduced significant upgrades to the Haas VF-18 in Canada, and while you felt there was promise after competing in the Canadian Grand Prix, it wasn't really seen until we got to the power circuits of Paul Ricard, the Red Bull Ring and Silverstone. What makes the Haas VF-18 better at those tracks compared to tracks that are more compact with tight corners?
"Our car is good at high-speed corners. It performs really well in those. That's why those tracks were good, with a blend of high-speed and medium-speed corners. We're a little bit less strong in the low-speed stuff, and on bumpy tracks, it can be challenging. So, let's see if we can improve those weaknesses."
You're at full throttle for a little more than half of every lap at the Hockenheimring. How do you go about managing fuel without sacrificing track position?
"I don't know yet if the Hockenheimring is a higher fuel-consumption track. We'll see about that. If it is, it'll be the same for everyone, so managing track position is not really an issue."
Do you have any milestones or moments from your junior career that you enjoyed at the Hockenheimring?
"I've raced there many times and I've won races there in junior categories. I remember in my first year with McLaren I had a good qualifying, getting P4."
What is your favourite part of the Hockenheimring?
"Turn one is challenging – really sharp apex at really high speed. It's difficult to get right. You've got this big hump on the inside of the apex that you're trying to get as close to as possible. If you hit it though, it can cost you lap time. It's a difficult corner. Then the entrance to the stadium is pretty cool as well, then the corner after that with lots of banking. It's pretty cool as well."
Describe a lap around the Hockenheimring.
"There's a good flow of mixed corners, big braking zones, good medium-speed corners with banking, high-speed corners, and overtaking is possible. It'll be an exciting race."
????? pic.twitter.com/TWusfsHZCD

— Kevin Magnussen (@KevinMagnussen) July 17, 2018