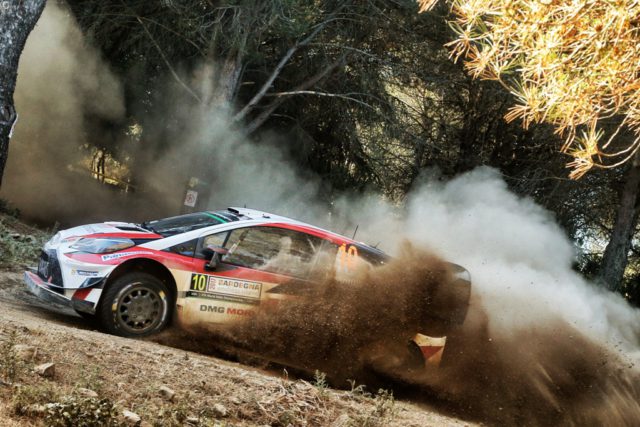 Jari-Matti Latvala finished second in Rally Italia Sardegna but he was furious because of a dangerous situation, aggravated by WRC radio rules.
On the second day of the rally Mads Østberg stopped to change a punctured tyre in the Monte Lerno stage. The Toyota driver caught up with him and later even threatened to quit the championship. According to the rules a team can inform a crew for a safety problem. The crew though cannot call on the radio.
"The main problem we had was during the first run through Monte Lerno, when we were suddenly caught in the dust behind another competitor, who had a puncture. He didn't know we were there as radio is not allowed, so we lost about 10 seconds", Latvala said.
Later the Finn was explicit in stating that in a future similar situation he simply will not obey the rules.
"I will take the risk, I will call them. This is a safety issue. I had to take massive risks in the dust and if you do a mistake in these conditions then it's not only for myself, but also there is the risk for spectators", the driver told Autosport.
"I came on one junction and there was a marshal in the road and running away because he didn't expect me to be coming. This is not good."
The other problem is that only manufacturer teams are allowed to run the official radio system.
That means that Østberg had no radio and that is not sensible according to Latvala
Not blaming @MadsOstberg for what happened this morning. He doesn't have radio in the car so he couldn't know that we were behind him #WRC pic.twitter.com/b1JczYTwZi

— Jari-Matti Latvala (@JariMattiWRC) June 10, 2017
The Finn added that everybody "needs to be able to communicate whether they are a privateer or factory car."
Still he found some positives from the rally as the points gap to Sebastien Ogier in the overall standings narrowed down.
"In the end, we were quite close and so I'm happy about this result but I'm a bit disappointed with myself after two mistakes I made [on Sunday]: I stalled the car when I was in second gear in the high ruts, then when the same stage was run again as the Power Stage I couldn't get the car turning around the junction. Anyway, all in all I'm happy for the team: it was a good result and a good performance", Latvala commented.
Juho Hänninen led the rally on Friday and also won a stage, eventually finishing sixth.
"There are many positives we can take away: we tested a lot of things and we gathered lots of useful information for the future", he pointed out.
"Unfortunately, we had an intermittent steering issue and that cost us a bit of time. But still we score some good points and my best result so far in the Yaris WRC. After the rally, it's easy to regret the mistake I made on the last stage of Friday. That certainly penalised us in the start order on Saturday. Maybe things could have been different. It's all part of the sport though and the main thing is we have a good team result with all three cars."
"This was one of our strongest rallies without a doubt", team principal Tommi Mäkinen summarized
"The results we had speak for themselves. So the only thing for me to say is many thanks to the people who make this all possible. It's because of them that we can achieve this in only the first half of our first season. But of course we have plenty more work still to do."