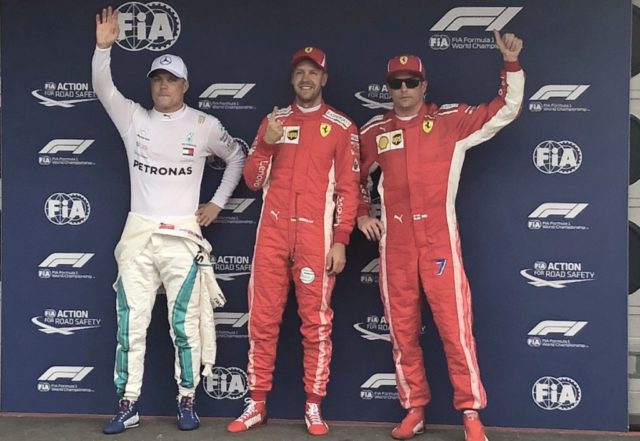 Sebastian Vettel said that he had felt certain from early on that he would be able to claim pole position for his home German Grand Prix this weekend.
Vettel set a new track record for the Hockenheim on Saturday with a final effort of 1:11.212s, which put the Ferrari driver two tenths clear of Mercedes' Valtteri Bottas.
"I felt in Q1 that the car can do it," he revealed. "Sometimes you just know, but you still have to do it. I knew that for the last lap I had a little bit in me, and I was able to squeeze everything out. It just kept getting better!
It was amazing to see so many red flags, Ferrari flags, so much support – German flags all around the track. Still a bit full of adrenalin, but very happy."
It's the first time that Vettel has out-qualified team mate Kimi Raikkonen at Hockenheim.
The Finn ended up third-fastest at the end of the final round of qualifying. He had briefly gone to the top of the timesheets in the closing seconds of Q3, only to be pipped in quick succession first by Bottas and then by Vettel.
"I had a small moment the first time through turn 12," Raikkonen admitted after the end of the session.
"I touched the kerb and got sideways, so not ideal. Then the second I was a bit cautious because of that," he added. "For sure there was more, but today it didn't come."
Raikkonen visibly bristled when asked whether his starting position was the ideal place to act as 'rear runner' to protect Vettel.
"We're going to have our own race. And we're going to race as a team. "I think third place should be a pretty good place to start so we'll see tomorrow."