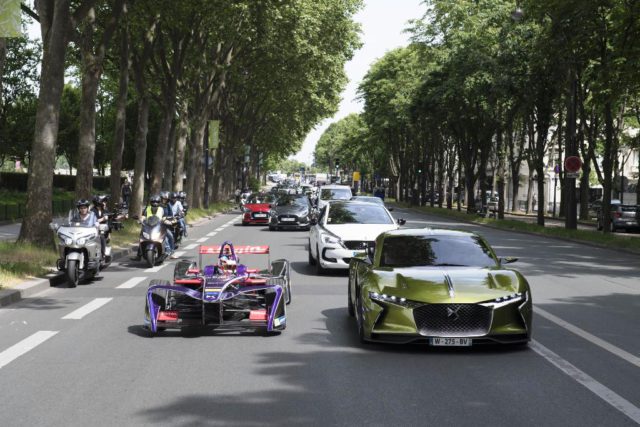 DS is accelerating the development of electrified cars. It will release a new model every year and all will be with an electric version (hybrid or all-electric). The series starts with DS 7 CROSSBACK. The company is competing in Formula E and it is a valuable test-bed for gaining experience and accelerated development. This season there were ePrix races in Monaco, Paris, Berlin, while the next rounds will be in New York and Montreal. They will provide further opportunities to show its technologies, as Formula E is a perfect test and evaluation laboratory for future production models. Three specific projects are already in their advanced stages, as well as thanks to that sports activity.
"DS is entering the electric vehicles scene", Product and Development director Eric Apode commented.
"By 2025, more than a third of our vehicles sold will be hybrid or all-electric. The first in the series is DS 7 CROSSBACK E-Tense. It is our vision of hybrid power with 300hp and a 60km electric range".
Performance director Xavier Mestelan Pinon explained:
"A competition series involving all-electric race cars obviously makes an ideal testing environment. With each successive race or test, we're accelerating this development and every new component. The aim is achieving a better understanding of how to optimize the electric motor drivetrain and the management of energy in particular with cooling in mind."
Extended electric range for production models
The connection between the 140mph top speed of the DSV-02 (DS Virgin 2nd gen) race car and the 60km electric range of DS 7 CROSSBACK E-Tense is that both depend on the techniques for controlling the battery energy supply and the management strategies of its deployment. This became very clear to the DS Performance teams from the outset of their Formula E involvement. And this invaluable data advanced the know-how of the DS engineering team working on the road car's petrol-electric hybrid project.
Electric range of 60km with the DS 7 CROSSBACK Plug-in Hybrid Electric Vehicle (PHEV)
The petrol PHEV system will achieve a range of 60km in all-electric mode. And that will lead to no compromise to the car's dynamic performance. Supplementing the 200hp THP (Turbo High Pressure) petrol engine, DS 7 CROSSBACK E-Tense carries two 80kW electric motors to drive each axle. And it is capable of deploying a total deployable power output of 300hp with four-wheel-drive.
DS sophisticated electric architecture
Energy loss is the challenge of every automotive engineering team in their constant quest for ultimate efficiency and operational optimization. All Formula E runners have the same chassis, front axle system, and battery pack. So what makes the difference is the gearbox transmission and the electric motor, and the way the energy is supplied, controlled and cooled. That is the fruit of each team's own individual ingenuity. A team of 10 engineers developed DSV-02 for a year while identifying a number of ways for optimizing the operating efficiency of the electric motor and transmission. And the DS experts develop the most suitable aspects for the road-going petrol-electric PHEV drivetrain of the forthcoming DS 7 CROSSBACK E-tense.
Optimum transmission-motor coupling for an intelligent hybrid drivetrain on DS 7 CROSSBACK
DS 7 CROSSBACK has the new Efficient Automatic Transmission with 8-speeds (EAT8). It is located transversely between the petrol-fuelled internal combustion engine (ICE) and electric motor. DS experience and know-how are harnessing the inputs from PSA Group and DS Performance R&D teams to ensure the transmission performance operates with optimized efficiency and performance with the 80kW electric motor.
Electric power capabilities for the future of motoring efficiency
The purpose of the DS Performance engineering team is to make the relevant technologies accessible for the optimized development of DS vehicles. For example, the voltage used on electric vehicles; today's production vehicles use a voltage of around 400V whereas Formula E race cars use 700V.
Berlin, illuminated. The #BerlinePrix electrifies the city today. #FormulaE pic.twitter.com/YUulANVZID

— DS Automobiles (@DS_Official) June 10, 2017
The future starts right here, with DS E-Tense
E-Tense is much more than a concept car because it points the way to the DS future. Its two electric motors develop 402hp to the rear wheels, while this beautiful coupé delivers torque of 516Nm from start-up and boasts a potential top speed of 155mph. Its lithium-ion battery provides a capability to travel a potential range distance of 167 miles, while it serves perfectly for everyday motoring applications.
DS involvement in Formula E racing provides also a valuable learning experience. It helps to guide engineers to optimum design choices that can be rapidly applied to production road vehicles. DS 7 CROSSBACK will from spring 2019 also be available in a new petrol-electric hybrid (PHEV) version: DS 7 CROSSBACK E-Tense.
Crafted for the future. Sculpted to elecrify. Sam Bird took DS E-TENSE for a spin in Monaco. #DSAutomobiles #ElectricCar pic.twitter.com/km3Lvq91hi

— DS Automobiles (@DS_Official) June 2, 2017