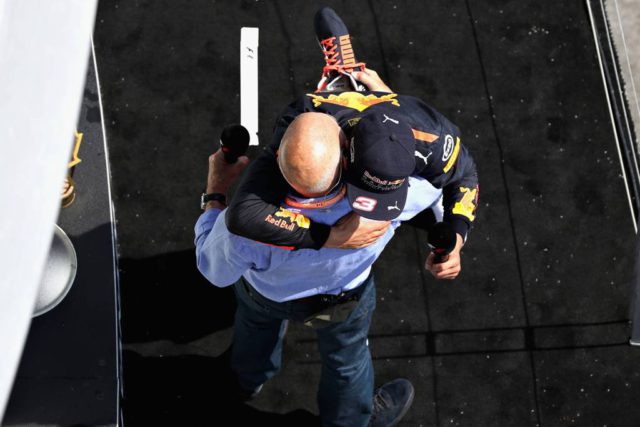 Daniel Ricciardo celebrated his podium at the Canadian Grand prix. He finished third in the race, while his Red Bull teammate Max Verstappen did not see the chequered flag.
"It was tough out there", Ricciardo said. "When we put the softs on I thought it's a good thing to do to get to the end. (Sergio) Perez was on me for a bit and then there were a few laps when I was able to pull away. It looked like he was struggling but maybe he was just having a breather and then he had a second attack. I couldn't afford any mistakes, especially in the last sector, because if they get the DRS and get a run it's hard to keep them behind. I had to be close to perfect in terms of not making any errors but it wasn't easy as the grip was low and the wind was crazy out there."
"Not the easiest third place but when I saw the chequered flag I was like: yes I can finally breathe."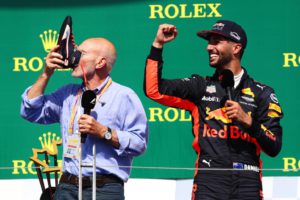 Daniel Ricciardo: "I had zero intention of doing a shoey again, but the crowd was chanting and then Sir Patrick (Stewart) got involved so I thought: alright, we might be on here. I think it turned out pretty good"
"Cheers!" @SirPatStew joins @DanielRicciardo in a podium shoey ??

(A sentence we never thought we'd write)#CanadianGP ?? pic.twitter.com/r4y1RmRGBL

— Formula 1 (@F1) June 11, 2017
Verstappen was not happy at all with the way his race ended, as he was battling for the podium.
"I think a podium was possible but once again we come away with nothing. The start was really good. Straight away I felt no wheel spin and could just put the power down and make some places. I had a little bit of contact with Seb (Vettel) on the first corner, running wide there means it can sometimes happen. From there on the pace felt good and I was looking after the tires and brakes as we had no chance of catching Lewis (Hamilton). I was just concentrating on doing my own race when I suddenly lost all power and everything shut down. I have had a lot of disappointments recently, I guess that's racing but sometimes you get tired of it."
Very disappointed, that after such a great start, with a podium in sight, we retired after losing all power. A big shame. ?? #CanadianGP pic.twitter.com/y5uK7HwpSs

— Max Verstappen (@Max33Verstappen) June 11, 2017