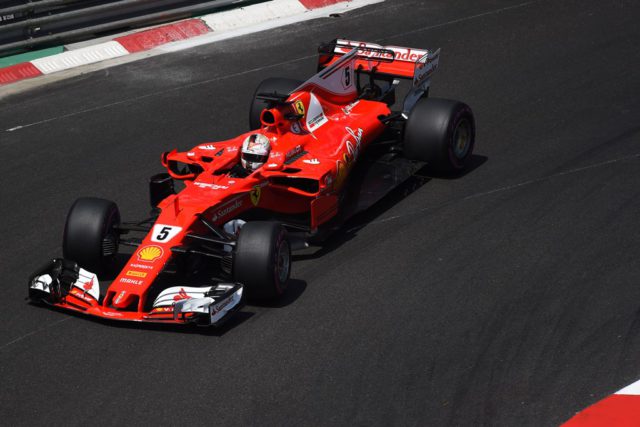 Sebastian Vettel took the victory ahead of Kimi Raikkonen as Ferrari triumphed in Monaco, sixth round of the 2017 Formula 1 World Championship. This was the Scuderia's 227th world championship win, the 44th of Seb's career and his sixth with the Reds. Vettel now leads the championship on 129 points, while Kimi is fourth on 67. This was the 82nd one-two finish in the Scuderia's history.
Kimi got away well from pole on the right side of the track, pulling Seb along behind him, who was fighting off the Mercedes
The two SF70Hs soon pulled out a bit of a lead over Valtteri Bottas, Max Verstappen and Daniel Ricciardo. However, the hot conditions made it difficult to follow another car too closely as there was a risk of overheating. Seb was running around 1:14min behind Kimi at this point, but the Reds began to up the pace, lapping in the low 1m 17s.
The basic strategy was quite straightforward: just one tyre stop shortly before half distance, switching from the Ultra to the Supersoft: therefore it was best to try and build up a small lead right away. A sixth of the way through, there was just a little more than two seconds splitting the Ferraris, while Bottas was dropping back. Things livened up on lap 15 with Sebastian posting a fastest lap.
Next time round, Nico Hulkenberg's Renault began smoking at the back in the run down to Mirabeau
Bottas slowed less than the Ferraris under yellow, he was now 5 seconds off Seb, who in turn had closed on Kimi.
By lap 26, the backmarkers were already on the agenda. Kimi lost time getting by Jenson Button and Pascal Wehrlein who were scrapping between themselves. Seb also got past but Bottas had made up 4 seconds and therefore the two Ferrari men responded immediately. On lap 32 Verstappen's Red Bull kicked off the run of pit stops. Next time round it was Bottas' turn. Immediately Ferrari moved to protect its position and brought Kimi in first for his stop.
Seb thus found himself leading from Ricciardo who was pushing very hard, trading fastest sector times with Seb. Ricciardo pitted at half-distance and Seb continued to push in anticipation of his stop at the end of lap 39. Vettel managed to get in front of Raikkonen after his pitstop.
With just 18 laps to go, Wehrlein was hit by Button and his Sauber was tipped on its side against the barrier at Portier
The Safety Car came out and the gaps were wiped out, including the leader's 12 seconds over Raikkonen. The Safety Car stayed out for a long time, coming in with 12 laps to go. The race was on again with the two Ferrari's getting away well. Behind them there were some battles and Vandoorne went off at Ste. Devote.
PROVISIONAL CLASSIFICATION: The final running order from today's #MonacoGP ??? pic.twitter.com/Pb3NMJxCXy

— Formula 1 (@F1) May 28, 2017