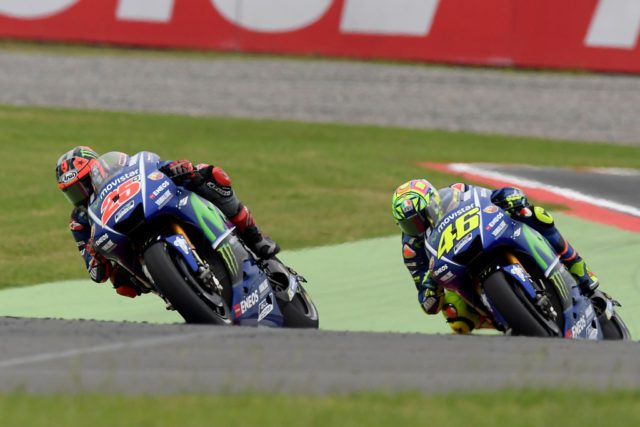 After achieving a perfect 1-2 in Argentina just two weeks ago, the Yamaha MotoGP Team's Maverick Viñales and Valentino Rossi will be back in the hot seat of their YZR-M1s as they get the action going at the Circuit Of The Americas (COTA) on Friday.
Two races into the 2017 season, Viñales remains the man to beat. With his two textbook wins at the Losail and the Termas de Río Hondo circuits in his maiden year with Yamaha, he will push to the maximum again this weekend to make it a hat-trick in Austin and give Yamaha its 500th Grand Prix win. The Spaniard is clearly in perfect harmony with the bike. Besides he is a big COTA fan and has a lot of good memories from the place, where he secured a strong second place in Moto3 in 2013 and won his first Moto2 race in 2014. His best MotoGP finish at the American track was a fourth place, just off the podium, last year.
"The next round is Austin and I'm happy because I won my first race there in Moto2. I've always been very strong here. One of my best results last year was in America, so I think it's a good track for my riding style. I love the up and down track, with lots of elevation, so I'm so excited to see how my M1 will work here and how I'm going to feel riding the Yamaha", Viñales said.
Maverick Viñales: "I'm confident and I know that I can do another good race weekend"
Ready to go ✈️ Austin?❗️ Preparado para ✈️ Austin?❗️ #mvk25 #25gang #mv25 pic.twitter.com/8hPDmMhsr0

— Maverick Viñales (@maverickmack25) 19 April 2017
Teammate Rossi also enjoyed a very strong start to the season and has shown twice that he knows how to come out swinging in the race, regardless of grid position. Together with his teammate, he is the proud owner of a 100% podium finish rate in 2017 and has a plan to keep it that way.
The Doctor aims to find a good balance for his bike early in the race weekend, so he can not only feature at the front but also put a claim on the top step of the rostrum, 13 years after his first win with Yamaha (April 18th, 2004, Welkom, Africa's Grand Prix). Last year he had a difficult race at COTA, but he will use the experience as extra motivation to show the American fans what he's got in store, like he did in 2015 when he finished third.
"I'm happy to be in Texas. I really like Austin", Valentino commented
"The first two races of the season went well and I hope to improve the performance of the first days of free practice. We have much work to do, but I'm confident in my bike and in my team. Austin is a very difficult track and I love riding here. I have an account to settle with this track because last year in the warm-up I made a big step for a strong race but unfortunately I made a mistake. This year I want to try to have a good race. I also really like the atmosphere at the American circuit and I come to this place always very happily."