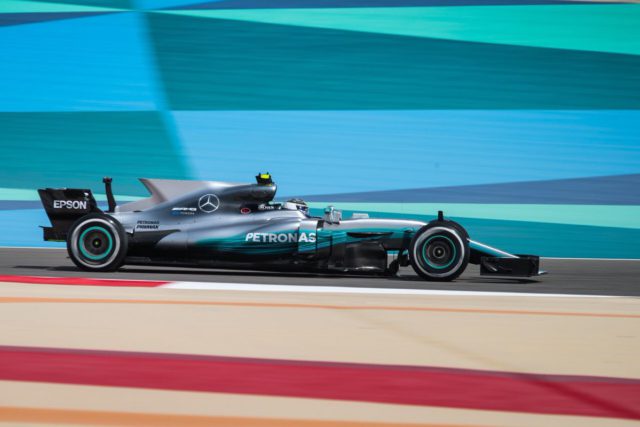 Valtteri Bottas beats Lewis Hamilton in Bahrain Grand Prix qualifying to claim his maiden Formula 1 pole position. Bottas became the fifth Finn to take a Formula 1 pole position, after Keke Rosberg, Mika Hakkinen, Kimi Raikkonen and Heikki Kovalainen.
Hamilton started the pole position shootout on top, clocking a 1:28.792 to lead Bottas by half a tenth. But on the second runs, Bottas improved to a 1:28.769. It was two-hundredths up on Hamilton, who had a slow middle sector and remained second.
I'm obviously really happy, said Bottas. – It's my first pole in my career, and my fifth season now in Formula 1. So it took a few races but we got it, and hopefully it's the first of many. We've made a really good job this weekend to focus on the evening conditions. Hopefully that's going to help us tomorrow.
"It's not an easy track to get everything right, it's quite technical, there's a few difficult braking points. Turning in to the corners it's easy to have a lock-up or miss the apex slightly, so it's just getting the lap together and the car well balanced. It was a good enough lap for pole today, so that's good."
Ferrari fell away from Mercedes as qualifying wore on. Sebastian Vettel hade to settle for third position, around half a second back. Red Bull managed to split the Ferrari drivers, so Daniel Ricciardo pipping Kimi Räikkönen, who complained of understeer through qualifying, with Max Verstappen taking sixth.
Renault driver Nico Hülkenberg delivered a strong sole lap for seventh. He is couple of tenths ahead of Felipe Massa, with a sizeable gap back to Romain Grosjean. Jolyon Palmer made it through to Q3 for the first time. But he still struggled in comparison to team-mate Hülkenberg en route to 10th.
Toro Rosso's Daniil Kvyat just missed out on a Q3 spot after running wide at the final corner on his final Q2 lap. While Lance Stroll drove to 12th position in the other Williams. Pascal Wehrlein marked his return to action with 13th position, followed by Force India's Esteban Ocon and McLaren-Honda's Fernando Alonso.
Alonso made it through to Q2. But was unable to post a time in the second phase, after his power unit suddenly blew up. He will start the race in 15th on the grid. In Q1 Carlos Sainz Jr. pulled off track with a loss of power shortly after the chequered flag dropped, ending his session early.
PROVISIONAL CLASSIFICATION: END OF QUALIFYING

First ever #F1 pole for @ValtteriBottas ?#BahrainGP ?? pic.twitter.com/Hx3QZrvWQt

— Formula 1 (@F1) April 15, 2017