F1 Test Day 3 – Toro Rosso, Sauber, Renault and Red Bull's reaction.
Toro Rosso
Carlos Sainz (11th time, +3.835sec to 1st, 32 laps)
"How annoying to have to finish the session early! Doing only half a day today, we were looking to maximize it, get into a good rhythm and add plenty of mileage to the car. Unfortunately, we suffered a drivetrain failure half way through the afternoon, which meant we had to stop and not run any more today. It's frustrating, but this is what happens sometimes during testing. We need to stay positive and make a big push tomorrow and during next week's test."
Daniil Kvyat (13th time, +4.247sec to 1st, 31 laps)
"A bit of a frustrating morning for me today because we lost some valuable track time due to a drivetrain issue. It's a shame for myself and the team, because we should be using the time to add laps to our tally… But, on a positive note, when the car is running it feels good and there's always something positive found by the engineers and myself. My feeling with the car is also improving lap after lap. We just need to keep our heads down and continue to work as hard as we are already doing."
Jody Egginton (Head of Vehicle Performance):
"A frustrating day as we were not able to complete our planned run programme. We started the morning with Daniil assessing some overnight changes and, subsequently, some further tyre and general set-up related tests. These yielded some useful data but, due to an issue with the drivetrain, we had to stop and as such were not able to complete the run plan. Carlos took over driving duties in the afternoon, picking up a few of the outstanding test items but also working on some control system test items. His running progressed well and we were at the point of moving to the soft compound when we suffered another more serious drivetrain issue, which resulted in the car stopping on track and our day ending early."
"The issues today, combined with not having had a perfect day 1 and day 2, leaves us with a lot of ground to cover between now and the end of the next test and we will need to adapt the remaining running to achieve our primary objectives before Australia. However, we are up for the challenge and feel confident that there is a lot of potential in the STR12; we just have to remain focused in the remaining test we have and we will unlock it."
Stop & Kiss ? @carlosainz #F1Testing @Circuitcat_eng pic.twitter.com/kev0ZW5Pig

— Toro Rosso (@ToroRossoSpy) 1 March 2017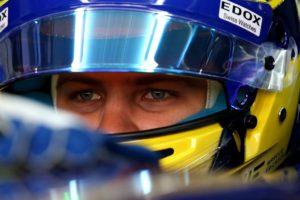 Sauber
Marcus Ericsson (6th time, +2.119sec to 1st, 126 laps)
"It was a very positive day. We had a trouble-free day in which I managed to run 126 laps overall. It was very important that we could work through the planned programme without having issues with the car. I tested several tyre compounds today, and it was interesting to compare them on different stint lengths – on short as well as long runs. We had an intensive programme today, during which we learned a lot. We have loads of data to analyse in order to get a better understanding of the car."
Positive day for us @sauberf1team . 126 laps completed and a lot of data gathered. Having so much fun driving these new generation F1 cars pic.twitter.com/4cY2sdHu6u

— Marcus Ericsson (@Ericsson_Marcus) 1 March 2017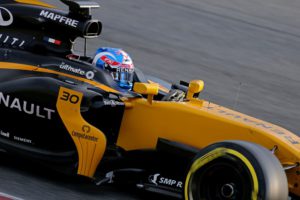 Renault
Jolyon Palmer (4th time, +1.691sec to 1st, 51 laps)
"It wasn't a perfect start on cold tyres first thing, but other than that we've made some really good progress throughout the week in terms of set-up. I feel happy with where we are as it feels like we're making steps forward every time we go out. The car seems straight-forward to understand for the engineers and drivers, so that makes progress and development much easier than otherwise. I completed 51 laps this morning which is satisfying and we're constantly learning. I think that's showing in the performance."
Nico Hulkenberg (5th time, +2.086sec to 1st, 42 laps)
"It's a positive that we could complete more laps today. My time in the afternoon was slightly limited with some minor issues, but they were a valuable 42 laps and with some quality work done. We are constantly improving our understanding of the car and I learnt a few bits and bobs myself. Tomorrow we'll run on a wet track, which will be interesting. I'm open-minded with what to expect. It's going to be interesting in the morning with a wet track and pretty cool conditions; it could be fun, I'm interested to see what it's like."
Alan Permane, Sporting Director:
"We had productive day with both drivers in the car and we've seen good feedback regarding every element assessed. The team has made strong progress with the set-up and managed a decent amount of long runs to assist with our data collection and understanding. We used Pirelli's soft tyre properly for the first time and it offers a decent chunk of pace over the medium compound. We're very happy with what we've seen today in terms of downforce and tyre usage so we have a good baseline to work from for next week's test."
This is actually awesome. Anyone else fancy sending in animal versions of our technical side thingy? (We'll find out its proper name asap.) https://t.co/V7N4HFOLEd

— Renault Sport F1 (@RenaultSportF1) 1 March 2017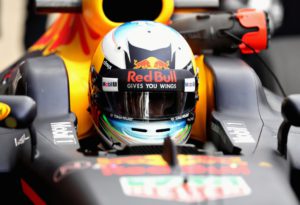 Red Bull
Daniel Ricciardo (3rd time, +1.448sec to 1st, 70 laps)
"Day two in the car for me and we got a few more laps in, which was good. "I definitely learned more about the car and the tyres today and really started to feel the downforce. For example, Turns 3 and 9 are now pretty impressive. I think when we start doing
60 laps in the heat you're going to see some physical limits being pushed for us drivers. This afternoon we found a problem with the exhaust. We had check that, which took some time, but before that we had a pretty good run of nearly 20 laps, which was important for understanding the tyres. For now we haven't got too involved in performance runs. Hopefully next week we can push it a bit more and then see what we've got."
Commenting on the day's running, Head of Race Engineering Guillaume Rocquelin said:
"It's obviously not ideal when you encounter the kind of issues we had today and on Monday, but that's the nature of testing. This afternoon we had an exhaust issue that hampered progress and it meant another tricky day for Daniel. It's unfortunate for him, as these issues manifested themselves on the days he was in the car, but he understands the nature of testing and he's actually pretty upbeat about how the car feels and how it's behaving. Ultimately it's about what you learn from the laps you do get on the board rather than just running for the sake of it and so we've learned a lot so far.
Tomorrow we'll learn even more as the track will be artificially wet, so plenty of work still to do before we head back to the factory."
Investigation of an exhaust issue has hampered our afternoon running ? Working hard to get back on track! #F1testing #Red13ull pic.twitter.com/rlMNfASLH6

— Red Bull Racing (@redbullracing) 1 March 2017
Welcome to @danielricciardo's testing world! ? #F1testing #pushtheboundaries pic.twitter.com/0p93Fm0cJg

— Red Bull Racing (@redbullracing) 1 March 2017