F1 Test Day 3 – Force India, Haas and Mercedes' reaction.
Force India
Alfonso Celis (12th time,+3.863sec to 1st, 71 laps)
"It was a busy day in which we managed to complete nearly everything in our plan. These cars are completely different and I enjoyed my first experience of the new regulations – you can really feel the step up in performance. It took me a bit of time to get used to the car and the conditions, and the track had very low grip early on.  I did a lot of aero passes in the morning and then we focussed on understanding the tyres in the afternoon. The most important objective of the day was to give the team as much data as possible so these 71 laps will hopefully be very useful for better understanding this car."
Tom McCullough, Chief Race Engineer:
"Another solid day of work in Barcelona as Alfonso drove the VJM10 for the first time. Track temperatures were very low for the first couple of hours so we focussed on an aero mapping with various instruments fitted to the side of the car. We made a floor change during the lunch hour and worked through a set-up programme in the afternoon. Alfonso ran on several different tyre compounds – ultrasoft, supersoft and soft – giving us feedback and data on the new 2017 tyres."
Un día positivo y productivo. Ahora a seguir evolucionando el coche y prepararnos para nuestro próximo compromiso. #TheFonz
Fotos: JM Rubio pic.twitter.com/igO0J7pBTx

— Alfonso Celis (@FonsoCelisJr) 1 March 2017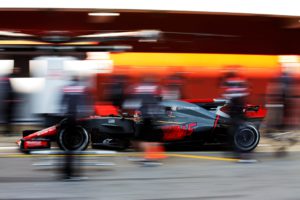 Haas
Romain Grosjean (8th time, +2.413sec to 1st, 56 laps)
"It hasn't been an easy day as we had a few issues here and there. We didn't do as many laps as we planned to. We didn't complete our program. On the setup, I don't think we've found where we want to be exactly, so there are a few things we need to work around and understand. Generally, these cars are going to be pretty cool to drive – going fast into the high speed, braking late and carrying quite a bit of speed through the corners, which is good. I think Pirelli has made a decent step with the tires, the way you can push three laps in a row. I'm just a bit disappointed we didn't get more mileage, especially with tomorrow being the planned wet day."
Guenther Steiner, team principal
"Not a perfect day today. We expected more, but again, it's testing – we need to keep our heads up and try to do better tomorrow. We know that we can do it. And that's why we're here to test. We had some various issues and we played a lot with the setup. We had a few electrical problems, with which we lost time. There's always little gremlins which can cause you to stop for half an hour, an hour, and if that happens the day goes by quickly and you don't do a lot of running. It can always be worse, and thankful we had a good day yesterday."
Found him. @RGrosjean chats to the media after his first full day steering the #VF17. #F1Testing pic.twitter.com/RcF9NYSkt7

— Haas F1 Team (@HaasF1Team) 1 March 2017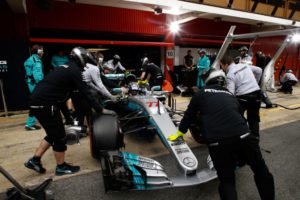 Mercedes
Valtteri Bottas (best time, 75 laps)
"I think it was another good session. We completed lots of mileage and the entire programme that we'd planned to do – including some long and short runs, collecting information on the different tyre compounds.
"We did some aero work to start with in the morning when the conditions were cold, then moved onto testing different settings on the car. It was a pretty straightforward day again, so I think everyone has done a great job so far. The car is running well and it's feeling better and better.
"It was definitely easier today without the windy conditions and I was able to experience the new car a bit more. One more day of testing left this week, with the wet running on Thursday, so I'm looking forward to getting more laps in tomorrow."
Another good day in the car. Enjoyed it! The @MercedesAMGF1 #W08 just keeps going ? #VB77 #F1testing pic.twitter.com/LUJjQFPHk9

— Valtteri Bottas (@ValtteriBottas) 1 March 2017
Lewis Hamilton (7th time, +2.385sec to 1st, 95 laps)
"It's been a great test so far for the team. Everyone at the factory has worked so hard to build a car that goes the distance. As always on these test days we're trying to get through as much as possible, in terms of reliability.
"The main thing is I got my first race run done today with no problems at all. Everything's worked well, which I'm happy about. The car is running smoothly and we're just running through setup items to tick off boxes at this stage.
"This is testing, so on the first week you never chase times. When you bring out a new car you don't have all of the components to be able to switch and make changes and work through everything you want to do – that's something that filters through over the days. Next week we should have a better opportunity to dial in the car, but for now we're focusing on mileage.
"Valtteri is doing a great job so far. His feedback seems solid, he's working great with the team and transitioning in smoothly."
The #W08 marches on… ?@LewisHamilton = 95 laps@ValtteriBottas = 75 laps

170 laps in total on Day 3 in Barcelona ?#F1 #F1Testing pic.twitter.com/i7Wf0FM6FN

— Mercedes-AMG F1 (@MercedesAMGF1) 1 March 2017