Valtteri Bottas was fastest during the third day of the first pre-season F1 test. The Finn's time of 1:19.705min was close to the fastest time in a test at Catalunya – that of Felipe Massa from 2008 (1:18.339min). The Mercedes driver gave his best time with ultrasoft tyres.
Sebastian Vettel was the other driver who managed to go under the 1:20min. Daniel Ricciardo was third fastest.
2007-2017
OFFICIAL RECORD: Raïkkönen 1:21.670 (2008)
BEST TIME QUALY: Barrichello: 1:19.954 (2009)
BEST TIME TEST: Massa 1.18.339 (2008)

— Circuit BCN-CAT (@Circuitcat_eng) 1 March 2017
#F1 @ValtteriBottas ends Day 3 of #F1Testing on top for @MercedesAMGF1 pic.twitter.com/sy8UaEQ28q

— FIA (@fia) 1 March 2017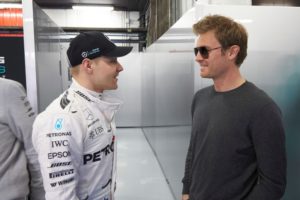 Nico Rosberg: The new cars are proper monsters
The third day of testing had a special guest: 2016 Formula 1 World Champion Nico Rosberg visited the paddock and pits at Cataluny. The German defined the new F1 cars as "proper monsters" and added that he does not regret his decision to leave the sport.
"It's such a massive hype at the moment. I wanted to see it first hand as well, see the new cars. They look absolutely monstrous. Very, very aggressive, and everybody's excited. The drivers are loving it. I think this year they will be proper gladiators out there, with these cars, which will take them to their physical limits", Rosberg explained.
"We might even see drivers losing race wins because of just being 'game over' physically. And that's what we need."
"I'm really happy with my decision (to quit the sport), you know, and I still love the sport. So it's great to be here, great to follow the action. I really hope the sport can progress, that would be cool. It feels good being here. It's just very different – I'm very relaxed, I'm enjoying it. I'm very happy with the way things are going and looking forward to the future."
#F1Testing visit pic.twitter.com/Pzy2AJFM6l

— Nico Rosberg (@nico_rosberg) 1 March 2017
Meanwhile Honda's F1 chief engineer Yusuke Hasegawa said the Japanese manufacturer feels very sorry for McLaren drivers Fernando Alonso and Stoffel Vandoorne.
"Obviously we are not happy to have trouble, but this is a test. So, we need to find out what has happened in the day two engine especially. We didn't know the exact cause of the problem of yesterday's engine. So far we didn't change anything. We don't know the cause of the problem and we can't tell [what progress will be like but I believe we can of course solve the issue before Melbourne", he explained.