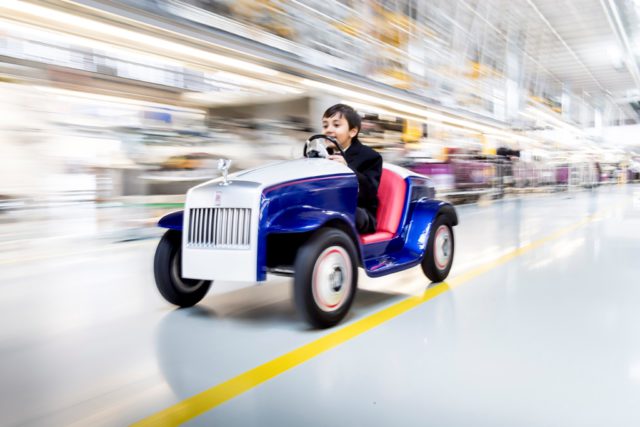 Rolls-Royce Motor Cars unveiled a new concept in luxury. This new car is for a very special customer: St Richard's Hospital Pediatric Day Surgery Unit in the marque's home town of Chichester, West Sussex.
The Rolls-Royce SRH will allow children, who await surgery, to drive themselves to the operating theatre. They will travel through the Pediatric Unit corridors which have 'traffic signs'. The experience of 'self-drive to theatre' aims to reduce child patient stress.
Two special drivers tested the SRH before its arrival at the Pediatric Unit. Molly Matthews and Hari Rajyaguru viewed the unveiling of the car. Then they both enjoyed first drives on the production line. That is an exceptionally rare privilege. It is usually reserved for the marque's Chief Executive during the validation process for new model families. Molly, Hari and their families returned home in the chauffeured luxury of Rolls-Royce Ghosts.
"The Pediatric Unit at St Richard's does such vital work in providing essential care to young people and their families," said Torsten Müller-Ötvös. "We hope that the SRH will serve to make the experience for young people during treatment a little less stressful", added the CEO of Rolls-Royce Motor Cars
The Rolls-Royce SRH presents to its very important customer a landmark study in Bespoke luxury
The car is with a two-tone paint-scheme of Andalusian White and Salamanca Blue. The finish is with a hand-applied St James Red coachline.
The interior space has the same finesse and attention-to-detail as every other Rolls-Royce. The top speed is 10mph. It comes in seconds thanks to a 24 volt gel battery. For those preferring a calmer journey, the speed setting is variable – it has a limit of statelier but no-less exhilarating 4mph.
Sir Henry Royce's famous credo was: "When it does not exist, design it". This spirit is evident in the conception of the SRH. The Bespoke Manufacturing team devoted over 400 hours of their own time to develop and hand-craft this most extraordinary car.
The project team also utilised 3D printing techniques for the design. This included production of the iconic Spirit of Ecstasy and the bespoke paddle controls.
The Bespoke Manufacturing project team utilised 3D printing for Rolls-Royce SRH which included production of the Spirit of Ecstasy pic.twitter.com/2iSxCiZ9bj

— Rolls-Royce Media (@RollsRoyceMedia) 1 March 2017
Marianne Griffiths, Chief Executive, of Western Sussex Hospitals NHS Foundation Trust, said:
"The SRH is simply priceless. It is a very special gift. I would like to say a heartfelt thank you to Rolls-Royce Motor Cars. And especially the small team who volunteered so much of their own time in support of St Richard's Hospital and the children we care for."
Sue Nicholls, Paediatric Matron at Western Sussex Hospitals NSH Foundation Trust, said:
"It's wonderful seeing a smiley face on the way to theatre, rather than an apprehensive one. Everyone caring for children at St Richard's is so grateful for this unique donation. We know boys and girls alike will love driving it. It will help turn a daunting experience into a more fun and enjoyable one for hundreds and hundreds of children."