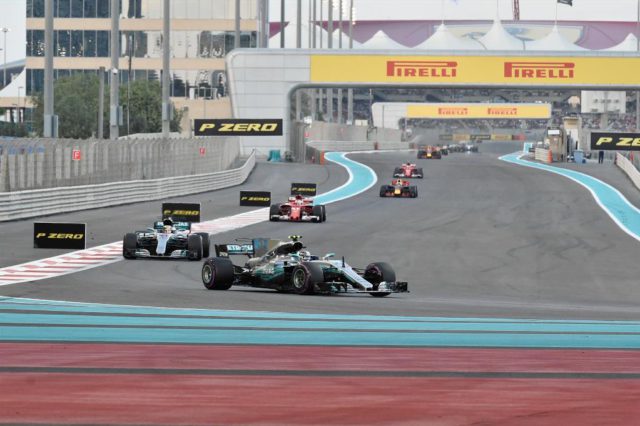 Valtteri Bottas won the final race for the 2017 Formula 1 season – the Abu Dhabi Grand prix. It was a double Mercedes victory as Lewis Hamilton finished second. Sebastian Vettel of Ferrari was third.
"It is a really important win for me. I had a pretty difficult start to the second half of the year. I've been working hard on all the issues and getting better and better with everything and this weekend with a pole, a win…I couldn't be happier to end the season like this", Bottas commented after the finish.
Bottas led from pole and added that he was managing the pace and felt nice while leading the race.
"I had one bit of a lock-up when I was approaching the lapped cars, but otherwise no issues and in the last five laps I started to go a bit quicker, I managed to build a gap and I'm really pleased. The car was so good and again, for this season, team, thank you very much, I've really enjoyed it", the Finn said.
Only two drivers did not finish the race. Daniel Ricciardo retired with a hydraulics problem. Carlos Sainz's front left tyre was not attached well and almost caused him to crash at the pit exit. There were a couple more incidents but fortunately, nothing serious.
After the last race of the season Kimi Raikkonen, who was fourth at Yas Marina Circuit, managed to pass Ricciardo in the overall standings. Nico Hulkenberg claimed tenth from Felipe Massa. His Renault team took sixth in the constructors' standings after a great battle.
Valtteri Bottas won the final race for the 2017 Formula 1 season – the Abu Dhabi Grand prix. It was a double Mercedes victory
#F1 – Find out the full results of the #AbuDhabiGP ?? pic.twitter.com/nSUFtEZjd6

— FIA (@fia) November 26, 2017
FINAL DRIVER STANDINGS ?

Raikkonen pips Ricciardo to fourth

Hulkenberg claims tenth ahead of Massa#AbuDhabiGP ?? #F1 pic.twitter.com/y1EQ76Lagx

— Formula 1 (@F1) November 26, 2017
? Sparkly ? #AbuDhabiGP ?? #F1 pic.twitter.com/9WLVhinj45

— Formula 1 (@F1) November 26, 2017