After Max Verstappen, it was turn of Daniel Ricciardo turn to show the fans his new 2017 helmet. The design is by Jens Munser and the Australian driver explains himself what you can see on the lid.
"This is the 2017 helmet. Mine. We've changed it up a little bit. It sort of goes with the theme of the car, but still [has] enough of my design to know it's still me and not Max", Daniel said.
"Firstly, we have a pretty big Red Bull logo. That's sort of the main trade mark of this year's helmet. Beyond that there's a new sponsor. I used to have the flag here (in the front part of the helmet) – the Ozzie flag, but I wanted to keep it a little bit cleaner this year so I just got the Southern cross. It's pretty subtle but still's got the Ozzie tip."
"The honey badger has remained and is still as badass as ever. For a few years I had "What would he do" (as a sign on the helmet). I wanted to change it up a bit this year. I'll probably go with a few different ones but for now [it is] "My time". That's pretty self explanatory."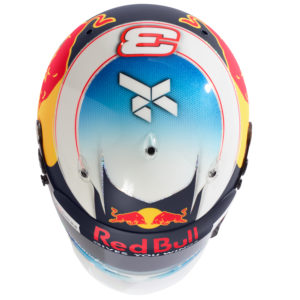 "The top is pretty clear. My logo – I've had that for about a year now. And last but not least – number 3. That is me. The 3 I am. I am… not Sam.
"So that's the new lid, which hopefully will carry me through many victories this year. And if it doesn't, I'll probably still like it, because it looks good. I like it more if it wins races and gets nice and dirty."
"My time."
Daniel Ricciardo: The honey badger has remained and is still as badass as ever
Meanwhile Red Bull team principal Christian Horner said the team has the best driver line-up on the grid.
"We've probably got absolutely the most exciting driver pairing on the grid. It's so exciting to see the development and evolution of Max Verstappen, just as he's growing in experience and confidence and age at the heady age of 19 this year. And Danny Ricciardo for me was the driver of the year last year. He put in some phenomenal performances, right at the top of his game, his confidence is high", Horner explained.
"So I think the dynamics between the two drivers is great, they're going to push each other incredibly hard. I couldn't wish for two better, more motivated drivers in our cars. You can see they really revel in being grand prix drivers. They're having fun along the way. There's sort of a big brother/little brother mentality going on. They live in the same apartment block. It's a great pairing for us to have in our line-up."