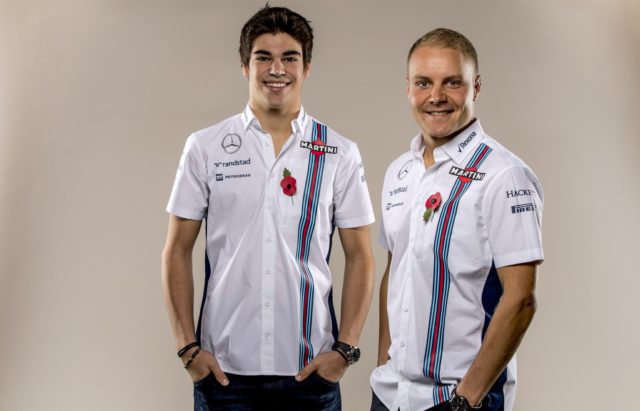 Williams confirmed that the European Formula 3 champion Lance Stroll and Valtteri Bottas will race with the team in 2017. This will be the fin's 5th consecutive season, while Stroll will make his F1 debut. He won the European Formula 3 this year and he is only 18.
"I am very happy that I will be starting my fifth season racing for Williams in 2017. It's going to be an exciting year with all the regulation changes. And a great opportunity for the team to get closer to the front. I'll be giving 100% as always to the team. Thank you to Frank, Claire and the whole Williams Board for their continued trust in me, Bottas said.
– Also, thank you to everyone at Williams, as it will be nice to continue working together with everyone both at the factory and the track. Williams is like my family. Going into next season, it will be eight years in total since I joined at the start of 2010, so it really does feel like home here. However, I still believe we haven't yet achieved what we should, and can do together."
Stroll added: "To be racing in Formula One in 2017 is incredible. I can't thank Williams enough for showing faith in my ability. Racing in F1 was something I dreamt about as a young kid. When I began karting seriously, F1 was then the ultimate goal and especially when I started racing cars in 2014. 2017 is going to be a big learning curve for me. But I'm eager to absorb everything Williams can share with me so that I improve.
I'll be taking things on a race-by-race, lap-by-lap basis and hopefully progress with experience like I did when I entered Formula 4 and then Formula 3. I believe contesting the FIA European Formula 3 Championship for the past two years has prepared me well for the step up. I've enjoyed success in karting, F4, Toyota Racing Series and most recently F3 – winning every category I've competed in. So I believe I have earned a shot in F1. I'm very thankful to everyone who has helped me to reach this level."
Claire Williams, Deputy Team Principal, said; "I'm delighted to confirm that Valtteri will be racing for Williams once again next year, and be joined by Lance Stroll. Valtteri is a much-loved member of the team and his talent is unquestionable. So for him to use that experience to help lead the team forward is exciting. He has played a pivotal role in the team's turnaround since 2014 and we are looking forward to continuing the strong relationship we have with him into the future."
Smiles all round for @lance_stroll, Claire and @ValtteriBottas! #WeAreRacing #F1 pic.twitter.com/DhicJOPX0I

— WILLIAMS RACING (@WilliamsRacing) November 3, 2016