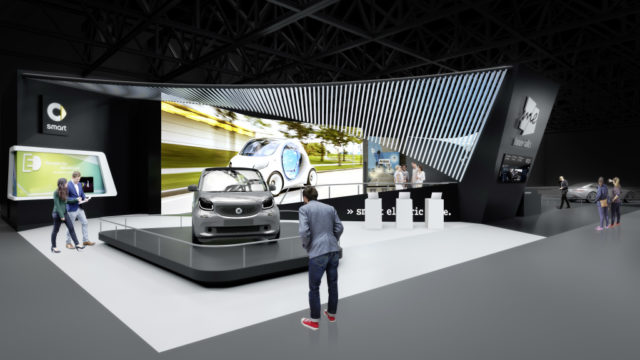 Mercedes-Benz will focus on the world premiere of the completely new infotainment system Mercedes-Benz User Experience (MBUX) at the Consumer Electronics Show in Las Vegas. CES will take place from 9 until 12 January 2018.
MBUX features innovative technology. Artificial intelligence and an intuitive operating system lie at its base. The system is setting a new era in terms of infotainment and Mercedes-me connectivity. Mercedes-Benz will introduce the technology as standard equipment in the next compact car generation. This will happen as early as 2018. The aim of the company is to ensure a pioneering in-car experience for its customers.
The official unveiling of the new infotainment system takes place on January 9, 2018. It will be a part of the brand's press conference.
Mercedes-Benz premiere its completely new infotainment system Mercedes-Benz User Experience (MBUX) at CES
Mercedes-Benz will display the Concept EQA, smart vision EQ fortwo and the Project ONE show cars.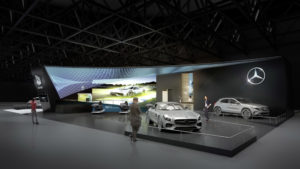 Moreover, Las Vegas is also the final stop of the "Intelligent World Drive", with which Mercedes-Benz has tested automated drive functions on all five continents. This has enabled the experts to gather information from all over the globe in real traffic conditions. In that way, they could adapt future automated and autonomous driving functions to the country-specific user and traffic situations. The automated test drives in the greater Los Angeles area, and subsequently at the CES in Las Vegas, concentrated on the assessment of driving behaviour in dense city traffic and on highways. The "Intelligent World Drive" test vehicle (its base is the S-Class Saloon) will be on display at the CES.
Christmas traditions. Every year, always the same. Maybe you're looking for a little change this year? #MercedesBenz and #EQ would like to wish you the happiest of holidays with our new Christmas film. ? ☃ ? pic.twitter.com/jQbPVYEA2j

— Mercedes-Benz (@MercedesBenz) December 12, 2017
The Mercedes-AMG Project ONE is a two-seater supersports show car
It brings the very latest and efficient Formula 1 hybrid technology from the racetrack to the road almost par to par for the first time. The high-performance hybrid is said to produce over 1,000 hp and reach top speeds beyond 350 km/h. The high-performance plug-in drive system comes directly from Formula 1 and consists of a highly integrated and intelligently networked unit comprising one hybrid turbocharged combustion engine with a total of four electric motors.
"Never before has racetrack technology been transferred so directly to the road. The 1.6-litre V6 hybrid petrol engine, located ahead of the rear axle, is straight from our F1 programme with only minor modifications," Tobias Moers states, Chief Executive of Mercedes-AMG GmbH. "But this beast is not exactly tamed. The engine revs up to 11,000 per minute. No other road car can claim this figure."
Technical data at a glance
| | |
| --- | --- |
| | Mercedes-AMG Project ONE show car |
| Rear-wheel drive | 1.6-litre V6 with direct injection, four valves per cylinder, four overhead camshafts and electrically boosted single turbocharger, electric motor connected to the crankshaft |
| Displacement | 1,600 cc |
| Rear-wheel drive output | > 500 kW |
| Front-wheel drive output | 2 x 120 kW |
| System output | > 740 kW (> 1,000 hp) |
| Electric range | 25 km |
| Drive system | Variable AMG Performance 4MATIC+ all-wheel drive with hybrid-drive rear axle, electrically driven front axle and torque vectoring |
| Transmission | Automated AMG SPEEDSHIFT 8-speed manual transmission |
| Acceleration 0-200 km/h | < 6 secs. |
| Top speed | > 350 km/h |