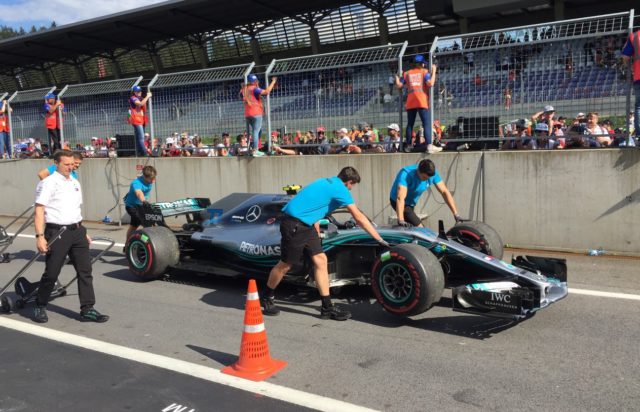 Valtteri Bottas lost hydraulic pressure in Austria and retired form 2nd place. He said it happened suddenly without any warning. The Finn had an interesting start to his Austrian GP at the Red Bull Ring. Although he started from pole position, he was P4 at Turn 1 having been past by Kimi Raikkonen and Max Verstappen.
"I had a lot of wheelspin at the start so lost momentum into turn 1 and lost a couple of place," Bottas said. "Good recovery into second. As a team we were in a good position with everything to play for. That, though, came to naught on lap 14.
We lost hydraulic pressure in Turn 3 on that lap when it happened. I had no gears because of that. There were no signs of any issues before so it just happened suddenly. We haven't had this kind of failure before so we need to find the reason and fix it. But quite unlucky for me as well."
His teammate Lewis Hamilton called on his team to find a bulletproof solution to their strategy errors after another cost him the lead of today's Austrian Grand Prix.
"All areas we're going to have to work on, he said. The car has been quick all weekend, we were the quickest and then to have two different faults on each car is very unusual. We can't throw away points. We've got to find a bulletproof method to move forward with our strategy because if our car was still going it was an easy win for us. We were comfortably ahead.
"But we'll work on it, we'll try to re-evaluate and try to win the next race. Everyone in the team is feeling the pain today. We've had such great reliability for so many years. As painful as it is and we are professionals, we really have to take the rough with the smooth.