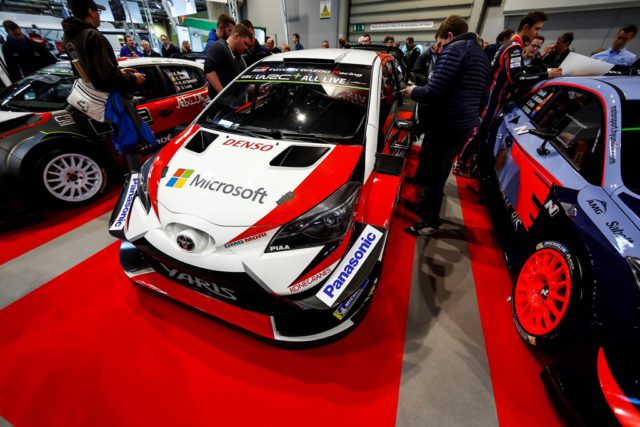 The Toyota World Rally Team has launched its 2018 World Rally Championship campaign, taking the wraps off the latest version of the Toyota Yaris WRC.
This year will be the second season of Toyota's journey on making ever-better cars through the FIA World Rally Championship (WRC), after a successful debut for the Yaris WRC in 2017 that included victories on Rally Sweden and Rally Finland, as well as fourth in the drivers' championship for Jari-Matti Latvala and third in the manufacturers' championship.
All of the WRC teams have gathered this week for the official 2018 season launch. Toyota has taken the opportunity to present the latest version of the Yaris WRC, which features a number of developments. Their base was the lessons that from last season.
A new aerodynamics package with upgrades has been developed for the front of the car. These include a new front bumper and fenders. These changes aim to even out the aerodynamic balance of the car by adding more front downforce. There are also updates to the cooling system that will be of benefit in some of the WRC's hotter events.
Toyota tested these developments over the final months of 2017. That was part of the team's preparation for the first round of the season at Rallye Monte Carlo on January 25-28.
Tommi Mäkinen (Toyota Team Principal):
"It's great to launch the 2018 season at the Autosport International show in front of so many motorsport fans. After a very pleasing first season in 2017, we are excited to build on that in the year ahead. We saw last year that the Toyota Yaris WRC was already capable of winning rallies, which was a great achievement by the team. But the competition also allowed us to discover areas that we can improve. With more time and more learning, we have been able to update the front end of the car to give us better aerodynamic performance. And we also have improvements to the cooling."
Couldn't launch this new season without #SISU! ?
Thank you @akikojmlfani #WRC2018 #TGR_WRC pic.twitter.com/2D2Xrrpvne

— Jari-Matti Latvala (@JariMattiWRC) January 11, 2018